The Document Foundation (TDF) today announced that version 4 of the free, open-source LibreOffice office productivity suite of applications is now available to download. The official TDF blog called the v4.0 release "the free office suite the community has been dreaming of for twelve years". LibreOffice 4.0 offers Windows, Mac and Linux users "a cleaner and leaner code base, an improved set of features, better interoperability, and a more diverse and inclusive ecosystem". More importantly to the average punter it's an improved freely downloadable office suite, with enhanced Microsoft office format support, that should be capable enough for most user's needs.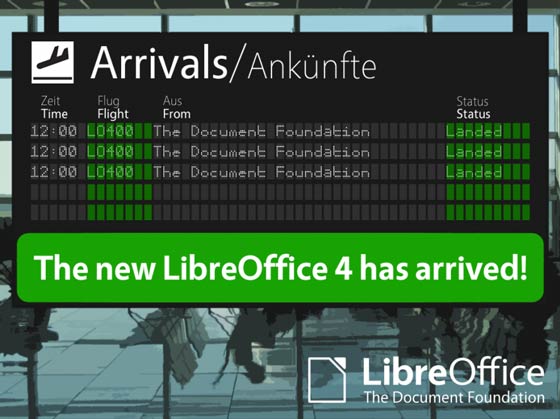 TDF boasts that more than 500 developers are actively working on continuous improvements to LibreOffice code. The developers have changed "several million lines of code", improving and refining this office productivity software. "LibreOffice 4.0 is a milestone in interoperability and an excellent foundation for our continued work to improve the User Interface," said Florian Effenberger, Chairman of the Board of Directors
What's new?
New features of LibreOffice 4 include the following:
Intergration with several CMS including "Alfresco, IBM FileNet P8, Microsoft Sharepoint 2010, Nuxeo, OpenText, SAP NetWeaver Cloud Service and others"
Improved DOCX and RTF interoperability
Impress (presentation software) remote control app for Android
MS Publisher format support
UI improvements and Persona theme customisation options
Calc spreadsheet program and file loading performance improvements
Try it?
For Windows users the international LibreOffice 4.0 installer weighs in at just over 180MB, you can find the release notes upon the download page, or just click here. For Mac or Linux users; just go to the above link and your system should be detected and an appropriate download will be offered to you. Please note that if you already have LibreOffice 4.0.0 Release Candidate 3, don't bother with this final release, it's the same.