Last night Yahoo launched a new browser. They call it "a new mobile and desktop browsing / search experience." The Axis browser is a combination offering which consists of a mobile browser and a desktop plugin for your existing browser. With the new "search browser" you can do visual thumbnail searches of websites without leaving the page you are on, it all looks very slick, especially in the snazzy video. Also Axis adheres to HTML5 standards. There are videos for all the platforms supported right now but I've embedded the desktop video below.
The Axis search browser will sync your data between you iOS device and your desktop computer (with your permission). The iOS app is free to download from iTunes and there is a free plugin for IE, Chrome, Firefox and Safari. An Axis search browser for Android will be available some time in the near future but its Android version/RAM requirements are not known as yet.
Shashi Seth senior vice president for Yahoo! Connections said in a press release about Axis. "Our search strategy is predicated on two core beliefs - one, that people want answers, not links and two, that consumer-facing search is ripe for innovative disruption, especially on the front-end. With Axis, we have re-defined and re-architected the search and browse experience from the ground up."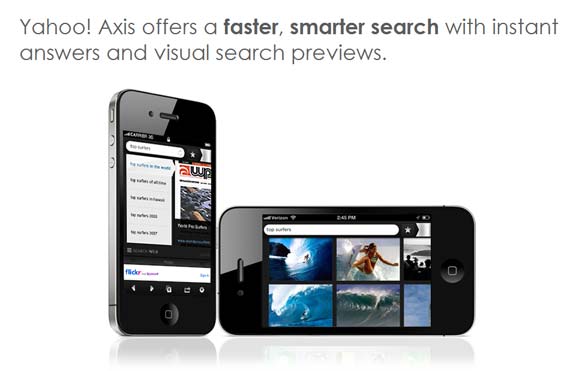 Axis seems like a slick solution to uninterrupted working between your devices, as your search and browsing experience is continuous between your browsing platforms without you having to manually bookmark things. As we have mentioned it is iOS only on the mobile side right now so Android users like myself can't give it a test run. Lex Friedman, a writer at MacWorld gave the new Axis search browser a spin today and concluded it is ambitious and well implemented, so it sounds like a useful tool. However there has been a hiccup or two reported in this new software launch already both issues have been fixed.