In anticipation of its new flagship GPUs, AMD is releasing a set of graphics drivers that makes some major changes to the Catalyst formula.
Tip of the CAP
Historically, one of the biggest complaints levelled at the Catalyst team had to do with the slow update schedule. While NVIDIA was cranking out ForceWare releases on an almost weekly basis, AMD has been stuck shipping out monthly releases, which often meant that gamers were left with drivers that weren't optimised for the latest titles.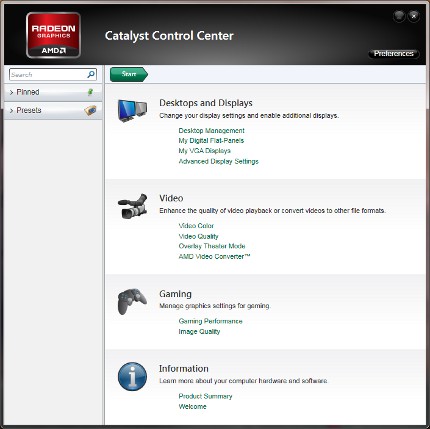 The new 'Basic' view
This got a little better with the introduction of the Catalyst Application Profiles (CAPs), but even they were few and far between. Now the company is committing to weekly CAP releases, which should be a huge boon for fans of the latest games - especially if they have CrossFire set-ups. Frustratingly, it doesn't look they'll be pushed out through Steam, but most enthusiasts probably prefer to manually update their drivers anyway.
Bring on the pretty
AMD has also been pretty far behind the times with the design of the Catalyst Control Centre (CCC), and now that's getting a facelift too. Built on the Windows Presentation Framework - that means Vista and Windows 7 only - the new interface aims to be cleaner, simpler and a whole lot easier to use.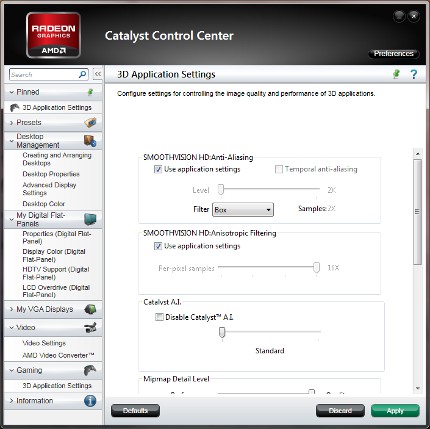 The new 'Advanced' view
To do this, the company spent a lot of time with the UI gurus at Infusion, who focus tested and refined the new interface. This translates into a lot of usability tweaks and a new task based approach that should make features easier to find. For anyone who dives into the CCC a lot, you can also 'pin' tasks and options to the navigation bar, or there's a search box to make finding specific settings faster.
More to come
As well as the normal performance tweaks, the developers have also stuffed in support for OpenGL 4.1 and hardware acceleration with the DivX Plus Codec Pack in this release. The latter should give better support for a range of video formats that results in lower CPU load and less background noise on any of the UVD3-capable HD 6000-series GPUs.
There are clearly a lot of changes in this release, but apparently there's more to come. Not only will there will be some major changes to the Eyefinity configuration and set-up, but the UI will continue to be tweaked over the next few releases. In the meantime, why not grab the new drivers and let us know what you think of the redesign in the HEXUS.community.