After a number of pre-alpha and beta releases over the past few months, Opera Software has today let loose the final release of its Opera 10.50 web browser.
The software, described simply as "the fastest Web browser thus-far produced for Windows computers", arrives just days after Microsoft introduced a browser ballot to Windows PCs throughout Europe.
Arguably the first major release since Opera 10 in September 2009, 10.50 introduces a number of new features - including a revamped interface, a private browsing mode (a feature becoming increasingly familiar in most browsers), and Windows 7 integration through the support of Jump Lists and Aero peek.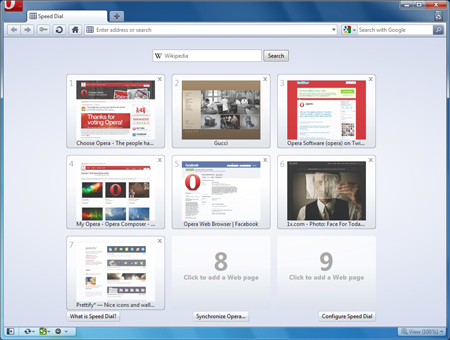 Existing Opera features such as Speed Dial, Widgets, Turbo, Unite, Link and an inline spell checker are all present, and the 10.50 release adds improved support for HTML5 and CSS3. In terms of HTML5 video - a controversial subject at the best of times - Opera, like Mozilla, has opted to implement native compatibility with the Ogg Theora format. Rival browser Apple Safari, meanwhile, makes use of the H.264 codec whilst Google's Chrome provides support for both.
Aside from the array of visible new features, Opera 10.50 also introduces a number of under-the-hood technologies, including a new JavaScript engine dubbed Carakan and a new graphics library called Vega.
Opera 10.50 for Windows is available to download at Opera.com. Releases for Mac and Linux platforms are expected to follow at a later date.