Live and unleashed
The growth of the smartphone market hasn't been great news for the personal navigation device industry. Seeing the writing on the wall, ALK Technologies - the makers of CoPilot satnav software - has moved to become a smartphone specialist, selling its product mainly through the Android and iPhone app stores.
We spoke to marketing director David Quin, shown below demonstrating CoPilot on a Google Nexus One, and asked him if the introduction of free satnav on Android 2.0 has harmed his business.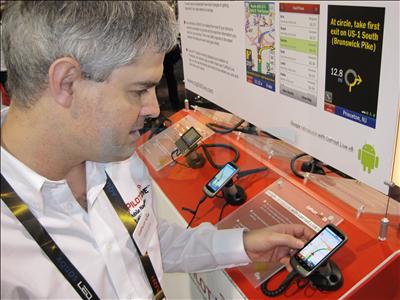 He said that sales actually went up when Droid Google Navigation came out and explained that the limitations of 'off-board' satnav, such as variable coverage and high data demands, have just served to highlight the advantages of 'on-board' products such as CoPilot.
Another advantage of using a smartphone for your satnav is, of course, that it's networked. This allows for contant live updates to be received by the phone, and it's this capability that the latest version of CoPilot seeks to exploit.
So ALK has introduced CoPilot Live, which offers useful real-time information life traffic congestion and will even plan you route to take account of it. Inevitably, in these socially networked time, there's also a feature called Livelink that will automatically update your Facebook page with your location.