Mozilla has released the final version of its Firefox 3.5 browser, following a number of beta releases over the past nine months.
The browser, available to download at Mozilla.com, contains a number of performance and security enhancements, and new features including support for the <video> and <audio> tags defined by the HTML 5 specification.
As always, Mozilla's keen to urge users to switch from competing browsers such as Microsoft's Internet Explorer, and the Firefox 3.5 download page proudly displays the following image: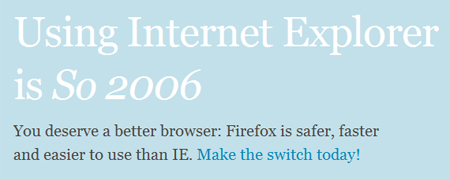 The English (British) download for Windows operating systems weighs in at about 7.7MB, and the release is also available in over 60 languages for either Windows, Mac OS X or Linux systems.
Want to see what else is new in Firefox 3.5? Here's a Mozilla-provided video preview: