3DMark has brought a plethora of meaningful advancements to its benchmarking apps in 2019. The year kicked off with the introduction of 3DMark Port Royal which tested DirectX Raytracing performance before adding the Nvidia DLSS feature test in Feb. In summer 3DMark added the PCI Express feature test to show the potential of PCIe 4.0. More recently, it added the VRS feature test to help gamers see the benefits of Variable Rate-Shading.
Now 3DMark has tweaked its VRS feature test to be "more versatile and sophisticated," so users can get more meaningful performance and image quality comparisons using their hardware.
To recap VRS, or Variable-Rate Shading, is a Microsoft DirectX 12 feature which allows game devs to increase performance by reducing detail in parts of a moving scene where it is unlikely to be noticed. Higher and lower shading rates can be applied to a scene, with the lower rate zones creating less work for the GPU - this is where efficiency and performance increases can come from. Of course if over used it will have a noticeable visual impact.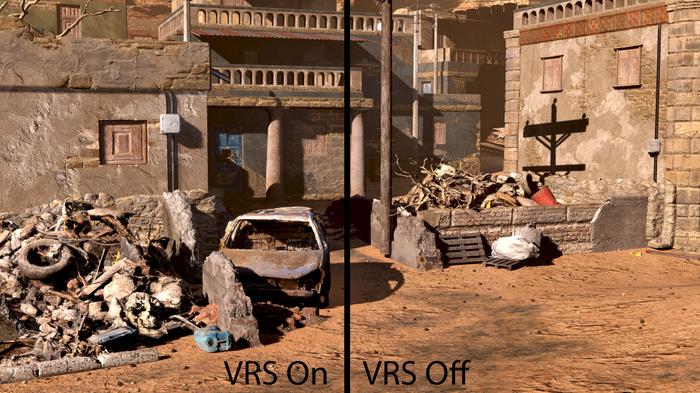 The new 3DMark VRS feature test has added Tier 2 support. VRS Tier 2 allows more flexibility and control by allowing different shading rates within each draw call. As well as a simple comparison benchmark where VRS off and on settings are compared, the updated test offers an interactive mode where you can change VRS settings on the fly as you watch.
There are some comparison scene 4K stills on the official UIL Benchmarks news blog but you really have to pixel peep to spot any differences.
Requirements
You will need Windows 10 version 1903 or later and a DirectX 12 GPU that supports Variable-Rate Shading to run the 3DMark VRS feature test. Tier 1 is supported by Nvidia Turing and Intel Ice Lake graphics processors. Tier 2 is only currently supported by Turing GPUs.
The VRS feature test for 3DMark is available for free for Advanced Edition owners, and Professional Edition customers with a valid annual license.