AMD has written to HEXUS to let us know that it has started to roll out Radeon Image Sharpening (RIS) support for Radeon VII, RX Vega 64, RX Vega 56 and Vega Frontier Edition graphics cards. In related news AMD has a new Radeon Adrenalin Software 19.9.3 driver. Last but not least AMD has started to bundle various AAA gaming titles with its CPUs and GPUs.
To start using RIS on your Radeon Vega graphics card you will need to download the latest driver, Radeon Adrenalin Software 19.9.3. Get this direct from AMD, via the usual URL, and you can read the full release notes here. The notes confirm Radeon Image Sharpening is enabled on Vega GPUs, as well as heralding this driver as the launch driver for Tom Clancy's Ghost Recon Breakpoint.
According to AMD, "RIS delivers new levels of crispness and clarity to in-game visuals that have been softened by upscaling and post-process effects". The image enhancement tech enables sharp visuals and fluid frame rates for DX12 and Vulkan titles on very high-resolution displays – with virtually no impact on gaming performance. RIS is enabled in the AMD accessory software and game developers don't need to implement RIS support in games themselves.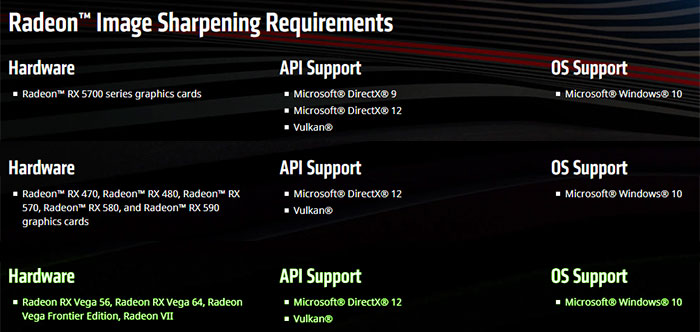 Recently AMD added support for RIS on Radeon RX 470, RX 480, RX 570, RX 580, and RX 590 graphics cards (in addition to support for Radeon RX 5700 Series graphics) so it is very widely supported on AMD GPUs now.
PC gaming bundles
AMD has a number of PC gaming promotions running currently. The AMD Radeon Raise the Game and Ryzen Equipped to Win bundles apply to buyers of new GPUs and CPUs, respectively. AMD's Radeon RX 5700 series, RX 590, RX 580 or RX 570 graphics cards, and select Radeon-powered PC desktops and laptops qualify for Raise the Game and can get a free copy of either Borderlands 3 or Tom Clancy's Ghost Recon Breakpoint.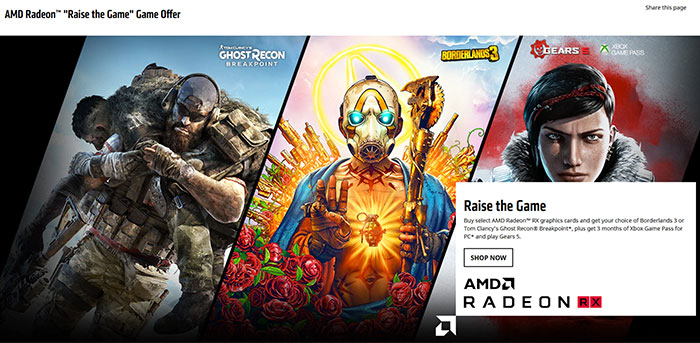 For CPU buyers, Equipped to Win provides copies of Borderlands 3 and/or The Outer Worlds for free. If you buy a Ryzen 9 3000 Series or Ryzen 7 3800X processor you can get both titles bundled. If you purchase a Ryzen 7 3700X, Ryzen 5 3600X, Ryzen 7 2700X or Ryzen 7 2700 processor, you qualify for your choice from those two titles.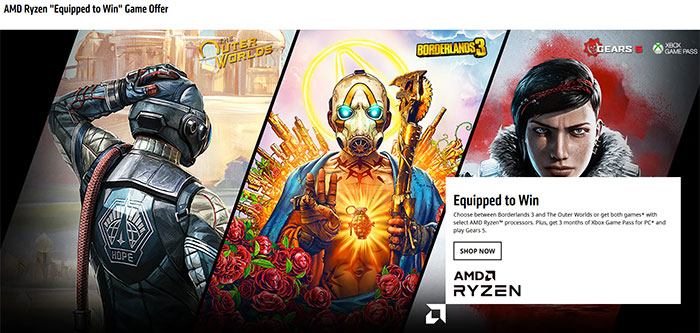 Those interested in buying both a new GPU and CPU can qualify for even more titles. Lastly, buyers of either new GPUs or CPUs will also qualify for three free months of Xbox Game Pass for PC with access to over 100 high-quality PC game titles.