Mozilla has updated its Firefox browser to version 69. The headlining change with Firefox 69 is that its existing Enhanced Tracking Protection is automatically turned on by default for all new users worldwide. This standard setting protects users from third-party tracking cookies and cryptomining by default - so they don't need to poke around in settings to enable the privacy-focussed features. Furthermore, the increasingly widespread fingerprinting scripts which seek to track users by means other than cookies, can now be blocked via Firefox's 'Strict' mode (not currently a default on setting).
There is a broad argument from web tech companies that consumers can always decide to dive into their browser settings and modify the defaults to enhance their privacy and prevent tracking if they so wish but Mozilla asserts that "most people will never do that". Furthermore, it states that traditional privacy features such as Chrome's Incognito mode don't live up to user expectations, as they do not prevent third-party tracking. In Firefox stats it is seen that only 20 per cent of users have gone into settings to enable Enhanced Tracking Protection, but the new initiative is likely to make a big change to the figure.
As mentioned in the sub headline and intro to today's story, new users will benefit from Enhanced Tracking Protection being automatically turned on by default in Firefox 69. Mozilla says it will deliver the same functionality to existing users over the coming months. The difference between new and existing users is to do with the "fundamental way in which cookies and browser storage operate," explains Mozilla. However, if you are an existing user and want to change to the new way of doing things right away in Firefox 69 you can do the following:
Click on the menu icon marked by three horizontal lines at the top right of your browser and then choose Content Blocking.
Go to your privacy preferences and click on the Custom option on the right side.
Mark the Cookies checkbox and make sure that 'Third-party trackers' is selected.
While you are in settings you can choose to block attempts at user 'fingerprinting' by applying 'strict' mode. However, it is noted that this mode can break some websites.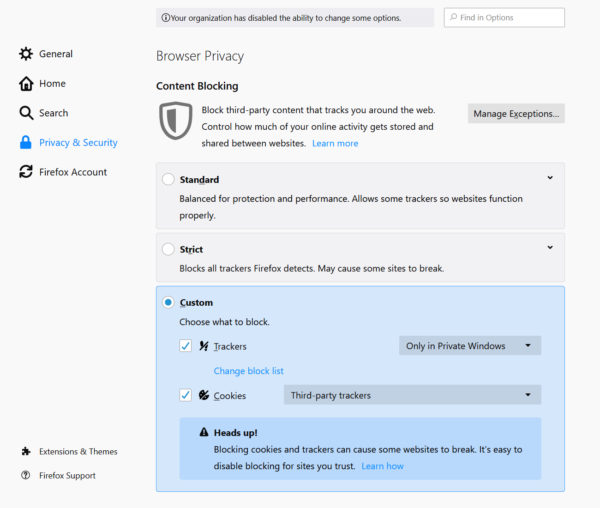 Other improvements in the latest Firefox browser release are; automatic blocking of autoplay video content (for silent videos too), improved battery life on portables, a new download UI, and support for the Web Authentication HmacSecret extension via Windows Hello and MacOS.