If you have noticed that YouTube seems faster and more responsive when using Google Chrome rather than rival browsers such as Mozilla Firefox, Microsoft Edge or Apple Safari, you aren't the only one, thankfully. Mozilla Technical Program Manager, Chris Peterson, commented on this eyebrow raising phenomena earlier this week and has suggestions for users wishing to do something about this issue.
Before we go on to remedies, it is worth looking at the cause of the performance disparity - which makes Google Chrome look like the best browser for watching YouTube. Peterson explains that "YouTube's Polymer redesign relies on the deprecated Shadow DOM v0 API only implemented in Chrome". Discussing the impact of the Google / YouTube policy Peterson added that "YouTube serves a Shadow DOM polyfill to Firefox and Edge that is, unsurprisingly, slower than Chrome's native implementation. On my laptop, initial page load takes 5 seconds with the polyfill vs 1 without. Subsequent page navigation perf is comparable."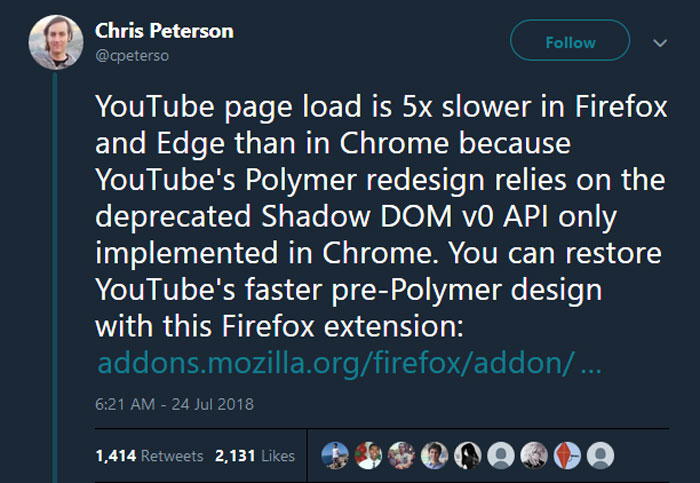 You can restore YouTube's faster pre-Polymer design in Firefox with an extension called YouTube Classic. Alternatively, if your browser of choice is Microsoft Edge or Apple Safari you can load a custom Tampermonkey user script to get the classic design - and faster speeds.
The Verge notes that it is "an odd decision," that Google Chrome uses Polymer 1.0, an open-source JavaScript library that was originally released in 2015 and has been superseded by Polymer 2.0 and 3.0. It goes on to hint that this behaviour might be "the latest case of Google building and tuning its web services so they work better or only work in the company's Chrome browser".

If you don't browse YouTube using Chrome and make the above suggested 'speed up' changes in your browser of choice, there are some drawbacks to consider. Firstly, you will be reverting back to the old YouTube site design. Secondly, if you like using the built-in YouTube dark mode, it won't be available to you anymore.