The Khronos Group has released Vulkan version 1.1. The latest edition of this popular multi-platform graphics API is said to include many new developer-requested functions, improved GPU access and handling, and has folded in some of the best extensions available into its core. In a press release the Khronos Group said that AMD, Arm, Imagination, Intel Corporation, Nvidia and Qualcomm have all already implemented conformant Vulkan 1.1 drivers. Vulkan 1.1 specifications, associated tests, and tools can all be found at Khronos's Vulkan Resource Page.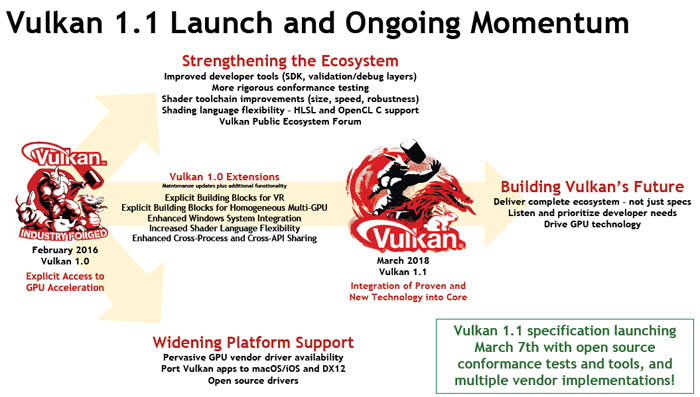 Vulkan 1.0 was released back in Feb 2016. Since that time the development of Vulkan has been largely spread over three initiatives; strengthening the ecosystem, developing extensions for popular or specialist use cases (VR, Multi-GPU and more), and in widening platform support. Khronos's developers reckon they have gone far enough down those paths now to distil Vulkan 1.1 with integrated new and proven technology into the core.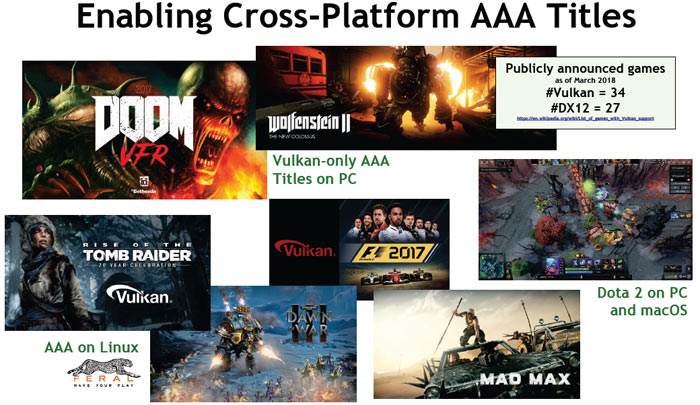 In an extensive slide deck the Khronos Group reminded us of the success of Vulkan 1.0 to the present day; its efficient CPU and GPU access, it pervasiveness over a multitude of hardware and platforms, its success in mobile gaming, in cross platform AAA titles, the momentum of the ecosystem, and new development tools being released. However we are here today for version 1.1 highlights, and you can see the first of these on-topic slides below.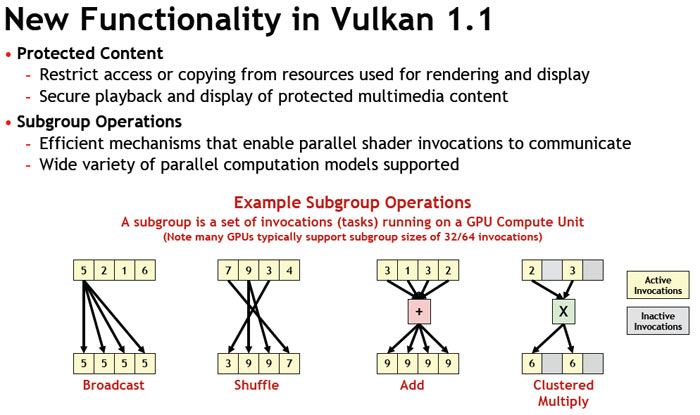 The protected content functionality is important for securing playback and display of protected content - DRM purposes. Another key improvement is seen in the new 'subgroup operations'. This ability can minimise calls to off-chip memory and enable highly-efficient sharing and manipulation of data between multiple tasks running in parallel on a GPU.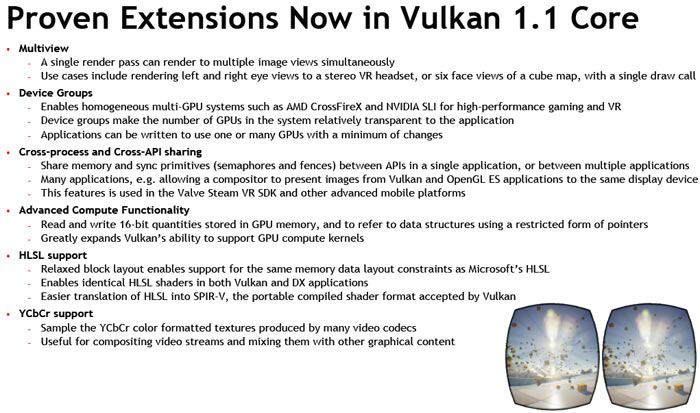 In the intro we mentioned popular and proven extensions of Vulkan 1.0 coming to the v1.1 core. Specifically the Khronos Group has folded in the extensions bullet pointed above. Key highlights include; simultaneous rendering of multiple image views, use of multiple GPUs in a single system, and cross-process API interoperability for advanced rendering and compositing operations often used in demanding applications such as Virtual Reality.