The AMD Vulkan Linux Driver will be open sourced before Xmas, according to a report from Linux-focussed tech site Phoronix. Apparently Linux users have been waiting for this patiently for nearly two years, since the debut of Vulkan 1.0. Between then and now the AMD Vulkan driver's source has been closed.
The slide below came in the Adrenalin driver press deck but Phoronix highlights that the open sourcing is not of this driver but of the Vulkan driver. In the next few days the open source driver should appear on Github, under the GPUOpen umbrella. Pondering over the slide you can see that AMD reckons its release will accelerate Vulkan development on Linux, help with fast support for new AMD hardware as it is released, provide Linux devs with access to the Radeon GPU Porfiler tool set, make it eacy to integrate AMD's Vulkan extensions, and enabled third party contributions.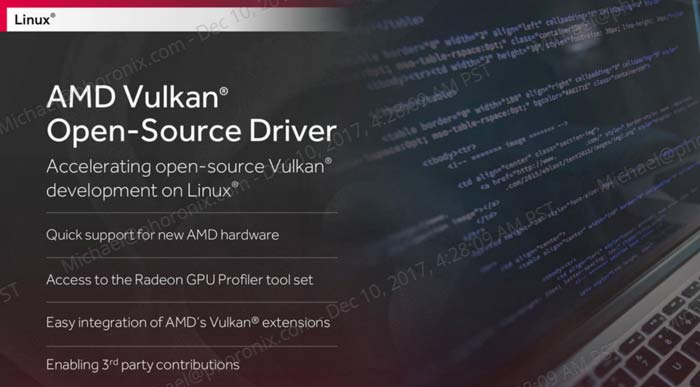 Phoronix notes that the full-featured Vulkan driver that AMD has been investing in the past two or more years will be open-sourced and that it is not a driver living within Mesa – it has its own code base and interfaces with libdrm / AMDGPU DRM / LLVM directly.
Linux developers produced the Mesa-based RADV while waiting for AMD's release. Apparently this is now mature enough that the developers intend to continue its development, rather than ditch it when AMD's Vulkan driver gets open-sourced, as was originally intended.
When the Vulkan Linux driver source code release drops, Phoronix promises to be among the first to test it out, comparing it with RADV which is already a staple package of many Linux distributions.