Tobii has launched its second generation gaming eye tracking hardware for PC. The Tobii Eye Tracker 4C adds head-tracking to its abilities yet only needs a single USB2 connection. This new product will directly replace the Tobii EyeX gaming peripheral and can be utilised in over 40 games titles at the time of writing.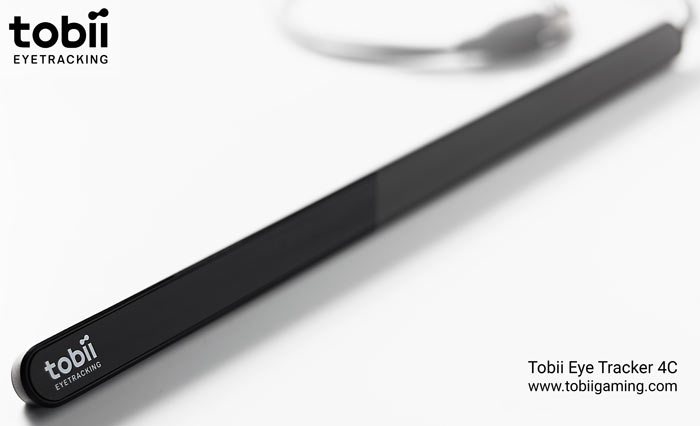 According to Tobii, its eye tracking products complement rather than replace traditional PC gaming peripherals but provide gamers with a significantly richer, more immersive experience. The eye tracking helps mimic actions that occur in real life so works naturally with your gaming instincts. The new generation Tobii Eye Tracker 4C delivers more than the EyeX peripheral in five key areas, as follows:
Adding head tracking functionality, making it the only gaming device to provide simultaneous head and eye tracking capabilities, providing a superior experience in simulator titles like Elite: Dangerous. (Currently in Beta)
Adding Tobii EyeChip, the world's first eye tracking ASIC, to reduce CPU load and power consumption from the host computer.
Decreasing the size and visibility of the illuminators.
Moving to an integrated USB2 cord (USB 2.0 BC 1.2) to increase the amount of compatible host devices.
Further advancing its industry-leading eye tracking quality with additional performance enhancements.
The above improvements were made based upon user feedback. Remember that as well as its gaming functionality Tobii eye tracker peripherals can be used for Windows Hello facial recognition.

As mentioned in the intro, there are currently around 40 games titles that support eye tracking enhancements. This games roster includes AAA titles like Deus Ex: Mankind Divided, Tom Clancy's The Division, and the soon to be released Watch Dogs 2. New titles are added monthly with Tobii expecting there to be about 100 eye tracking friendly games available by the end of next year.
The new Tobii Eye Tracker 4C is available and exclusive from Scan Computers.