Carbon3D, a California-based start-up, has announced and demonstrated a revolutionary 3D printing process which it claims can print 25 to 100 times faster than current popular 3D printing technology. The new system, called Continuous Liquid Interface Production (CLIP), has been demonstrated at the TED conference and is forecast to shake up the 3D printing industry, reports the BBC.
The "game-changing" liquid to solid rendering method was inspired by the film Terminator 2, where the T-1000 robot rises from a pool of metallic liquid. The novel approach allows objects to rise continuously from a liquid media, rather than via the traditional 3D printing method of building-up objects from multiple layer print-head passes over a platform.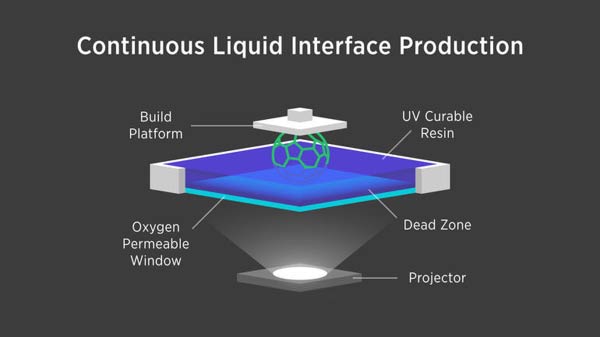 "It works by projecting beams of light through an oxygen-permeable window into a liquid resin. Working in tandem, light and oxygen control the solidification of the resin, creating commercially viable objects that can have feature sizes below 20 microns, or less than one-quarter of the width of a piece of paper," Phys.org explains. By allowing the formed photosensitive resin to cure in the process, this allows the printing to occur in three dimensions at once.
"By rethinking the whole approach to 3D printing, and the chemistry and physics behind the process, we have developed a new technology that can create parts radically faster than traditional technologies by essentially 'growing' them in a pool of liquid," said Carbon3D chief executive Prof Joseph DeSimone, during the opening session of the TED conference in Vancouver, British Columbia, where the printing technology was revealed.
Rival 3D printers simply offer 2D printing over and over again
DeSimone went on to point out fundamental flaws of current 3D printing methods, saying that 3D printing today is basically 2D printing over and over again. "There are mushrooms that grow faster than some 3D-printed parts," he joked, when mentioning how slow the process often is, before stating that his method could potentially be up to 1,000 times faster. DeSimone added that most objects created by 'traditional' 3D printing methods are mechanically weak because of the layer-upon-layer structure.
Carbon3D has been developing its technology since 2013, and asserts that the range of materials that can be utilised is much wider than with conventional techniques. This flexibility naturally results in a larger range of products, from sport shoes to automotive parts. Carbon3D has yet to commercialise its technology, meaning that it is likely an acquisition target for the existing 3D players. However, the company does have plans to have its product out commercially "within a year", with several printers being tested in the field already, by an unnamed automotive firm, an athletic apparel company and a research lab.