Adobe unveiled its first ever line of hardware products yesterday, a duo including the Bluetooth-based Adobe Ink digital stylus and the Adobe Slide digital ruler. Designed to be used with the iPad, the Creative Cloud pen and digital ruler aims to make sketching and drawing more natural and fluid on Apple's popular tablets.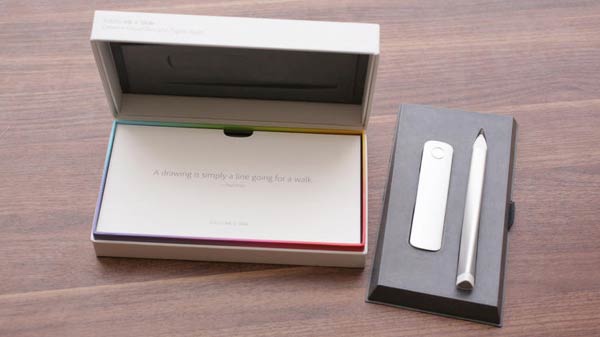 The Adobe 'Ink' is a Bluetooth stylus that features a twisted aluminium body to offer a comfortable grip along with a pressure sensitive 3mm tip which glides easily, whist providing appropriate resistance and feedback when drawing. The tip is customisable and the Ink also comes with a single button along the side, which can trigger the quick tools screen in the company's new sketching apps mentioned below.
'Slide' is a ruler designed to create instant straight-edges for drawing, with either your finger or a stylus. A digital ruler appears the moment Slide is placed on the iPad when running either of Adobe's apps. The button on Slide will also virtually transform the ruler into other types of geometric shapes to enable precision sketching.
The integrated hardware and software solution are connected with Adobe's Creative Cloud, which syncs and allows users to access themes, settings and images previously saved into a clipboard.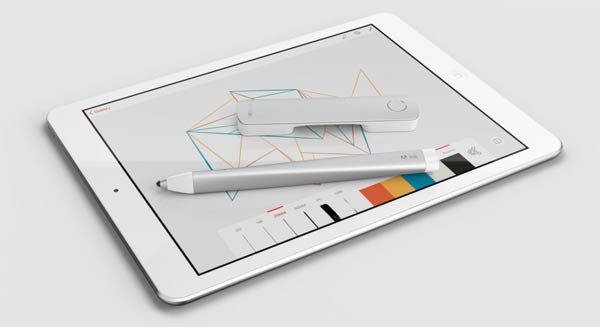 The company has also announced a new suite of free iPad apps, of which two are "Ink and Slide aware" and designed specifically for their use; Adobe Line and Adobe Sketch. The two apps will help anyone draw or design without needing lots of digital experience, whilst professionals could find it handy to use as a portable drawing platform. Line focuses more on precision drawing and drafting, whilst Sketch will supply users a platform to share and receive feedback on Adobe's Behance social network.
Other mobile apps introduced by Adobe include:
Photoshop Mix, an iPad app which will allow users to do masking and compositing of images on the touch screen
Light Room, an iPhone app which provides an efficient way to manage and edit images across platforms
Creative Cloud for iPad and iPhone, a new app which will allow Creative Cloud members to access their files from their mobile device
Adobe Ink and Slide are now on sale for $199 on Adobe.com and currently only available in the US. However, availability in other regions is expected later this year.