Highly regarded mechanical keyboard maker Das Keyboard has launched the latest version of its eponymous input device. The Das Keyboard 4's most obvious change is the addition of dedicated multimedia controls including a whopping great big "Hi-Fi inspired" volume knob on the upper right corner of its anodised aluminium surface.
The Das Keyboard has been a favourite amongst typists since its launch. However following a minimalist philosophy - originally it was manufactured exclusively with blank keycaps – it lacked the admittedly convenient but sometimes overdone 'media keys' proliferated by rivals such as Logitech and Microsoft.
Version 3 of the Das Keyboard was made available in a multi-media friendly edition, the Das Keyboard Model S Professional – Media. This used modifiers with the function keys to offer; Volume mute, Volume down, Volume up, Track play/pause, Track stop, Track next, Track previous and a Sleep key. Now it looks like Das Keyboard, a brand of Metadot, has just decided upon a design splurge to implement the multimedia control array you can see in close-up below.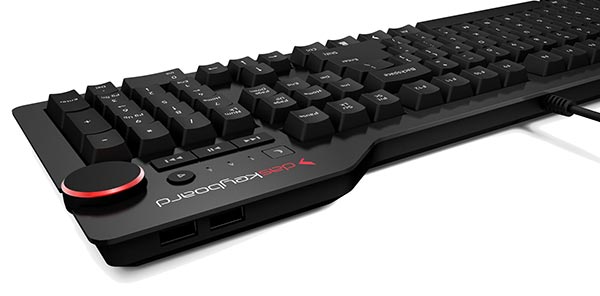 "Das Keyboard 4 is an order-of-magnitude improvement over past generation Das Keyboards," said Daniel Guermeur, creator of the Das Keyboard and CEO of Metadot. "Programmers, Internet surfers, freelancers and others who work eight to 12 hours a day at their computers know their keyboard is the tool they touch the most, making it the most important tool in their lives. One might as well use the keyboard that provides the best efficiency and enjoyment." Guermeur went on to claim in the official press release, that typing on a Das Keyboard "is euphoric".
Key specifications of the latest Das Keyboard include the following:
A new anodized aluminum top panel
German-engineered, gold-plated mechanical switches of your choice of Cherry MX Blue or Brown switches
SuperSpeed USB 3.0 hub provides a two-port 5Gb/s hub=
N-key rollover (NKRO) over USB for faster gaming, eliminating the need for a PS2 adapter
Over-sized volume knob and dedicated media controls to quickly adjust volume
Instant sleep button
A magnetic foot-bar to incline the keyboard at a perfect 4-degree angle, which can also double as a ruler, instead of the traditional flip-out feet
Extra long 6.6-foot long cable

The Das Keyboard 4 is available in a Professional version with printed keycaps and an Ultimate version "for bad-ass typists and gaming enthusiasts" with blank keys. The US versions are available for $169 with Cherry MX Blue switches, and $173 with Cherry MX Brown switches. European prices are €169 and €173 respectively. In Europe the Das Keyboard 4 will be available with German, Nordic and UK (hopefully with a double height Return key) layouts.