Best of both worlds?
Mobile chip-maker Qualcomm has been developing a colour screen technology, that relies on ambient, rather than device-generated light for some time now.
At MWC 2010, Mirasol marketing director Cheryl Goodman (pictured) revealed that an un-named OEM will be launching a device, not dissimilar to the 5.7 inch demonstration device shown below, in autumn of this year.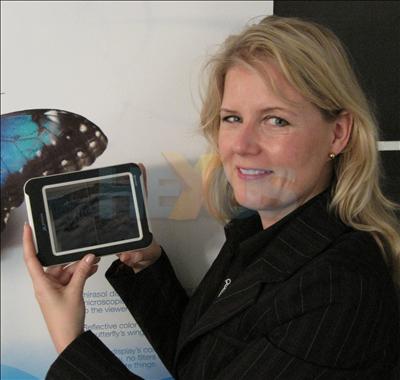 The technology is scalable to any screen size and is several orders of magnitude less power hungry than LCDs. Furthermore, it can support video and is apparently much less power hungry than even e-ink for graphically intensive material.
For this reason, Goodman says it's already proving a hit with magazine publishers. "Publishers are nuts for what we're doing," she said. "They are just like the music industry was ten years ago and are traditionally not too tech-centric."
Goodman positions Mirasol applications in between e-ink devices like the Kindle and LCD tablets like the iPad. It has greater graphical capabilities than e-ink, but doesn't present the battery life and eye-fatigue challenges of an LCD.
As a sign of its commitment to Mirasol, Qualcomm has even made a dedicated fab to make the screens, which support up to 30 frames per second video. While tablets will be the initial application of Mirasol, Goodman says they ultimately expect it to appear in smartphones.