LaCie has launched its fastest external Blu-ray burner, the d2 Blu-ray Drive.
The drive, pictured below, offers 8x Blu-ray burning for both single-layer and 50GB dual-layer discs. Sporting both USB 2 and FireWire connectivity, it's suited to both PC and Mac users but USB users should note that BD-R write speeds are limited to 6x when utilising a USB connection.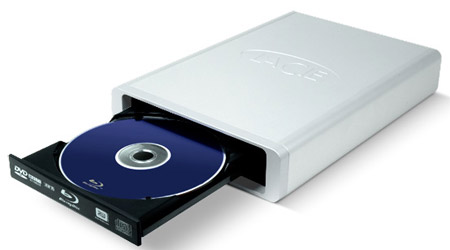 Priced at £409, the drive aims to be the ultimate solution for video professionals wanting to backup or store large quantities of data.
It'll come bundled with two pieces of software - Easy Media Creator 10 and Toast 9 Titanium - but as with a number of Blu-ray drives, it's still priced out of reach for the everyday consumer.
The complete read and write speeds for various forms of media break down as follows:
Write speeds
Read speeds
LaCie d2 Blu-ray Drive
BD-R (single or dual layer) 4x to 8x (limited to 6x with USB2.0)
BD-RE (single or dual layer) 2x
DVD±R 16x
DVD±RW 6x
DVD±R DL 8x
CD-R 48x
CD-RW 24x
BD-ROM 4x to 8x (limited to 6x with USB2.0)
AACS BD-ROM (content protected) 2x
BD-R 4x to 8x
DVD±R 16x
DVD±RW 8x
DVD±R DL 8x
CD-R 48x
CD-ROM 48x
CD-RW 32x