James Sherwood of The Register reports:
Stick the word concept before a product name and you've got yourself an instant excuse for craziness. Well, the concept Alien Mouse is no exception.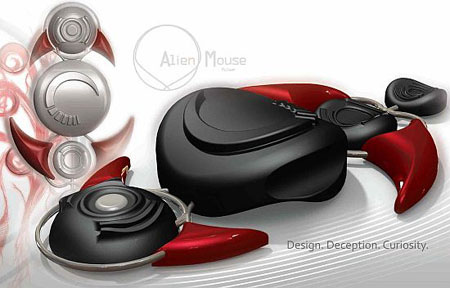 This four-section mouse is designed with ergonomics in mind and designer Mizanur Rehman claims that his Alien Mouse "is the solution to desktop comfort, health, style and design".
A rear forearm support operates as a pivot point for the hand and is extendable to provide customisable comfort for individual users. This section is connected to a larger "Wrist Sphere" that's essentially a soft plastic cushion to prevent compression of the ligaments and veins.
The "Wrist Sphere" then connects into the "Palm Sphere," which is described as the body of the mouse from where all the hand parts spread. Its flat shape is designed to allow the wrist to arch smoothly over the surface before leading the hand onto the actual mouse itself – or the "Button Sphere".
This final finger-focused sphere combines a large surface area and a finger joystick to help "reduce the need for unnecessary movement". Movable finger supports are also provided to help grip the mouse to the hand.
A vibration motor's even built into the mouse so that users have the pleasure of small pulses as they click their way around the screen.
A release date or price for the Alien Mouse hasn't been confirmed.