Hot on the heels of the PCIe 5.0 specification being completed, and with the first PCIe 4.0 devices beginning to emerge, the PCI-SIG has announced the upcoming PCI Express 6.0 specification. "Continuing the trend we set with the PCIe 5.0 specification, the PCIe 6.0 specification is on a fast timeline," Al Yanes, PCI-SIG Chairman and President, said. "Due to the continued commitment of our member companies, we are on pace to double the bandwidth yet again in a time frame that will meet industry demand for throughput."
The headline news concerns the touted performance of PCIe 6.0, of course. The new specification will deliver double the data rate, while maintaining backwards compatibility with previous generations and delivering power efficiency and cost-effective performance. Putting numbers to those claims, PCIe 6.0 will be capable of a 64GT/s raw bit rate, and users will benefit from up to 256GB/s via x16 configuration.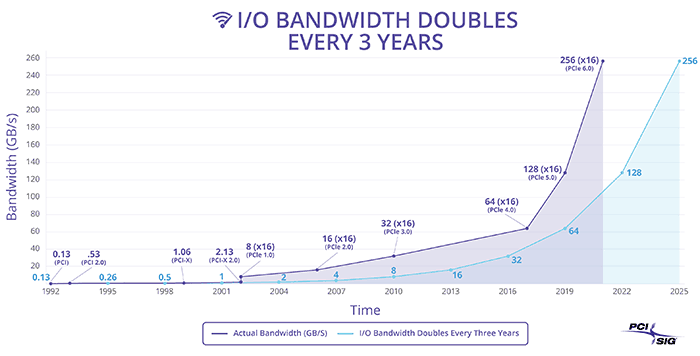 The chart above plots how the PCI-SIG specifications are staying ahead of the I/O bandwidth curve. By delivering 256GB/s (x16) in 2021 it will actually be an impressive four years ahead, as you can see.
PCIe 6.0 Specification Features
Delivers 64GT/s raw bit rate and up to 256GB/s via x16 configuration,
Utilises PAM-4 (Pulse Amplitude Modulation with 4 levels) encoding and leverages existing 56G PAM-4 in the industry,
Includes low-latency Forward Error Correction (FEC) with additional mechanisms to improve bandwidth efficiency,
Maintains backwards compatibility with all previous generations of PCIe technology.
The motivation for the PCI-SIG in ploughing ahead with these impressive bandwidth improvements isn't anything to do with PC enthusiasts and gamers, on its surface. "With the PCIe 6.0 specification, PCI-SIG aims to answer the demands of such hot markets as Artificial Intelligence, Machine Learning, networking, communication systems, storage, High-Performance Computing, and more," claimed Dennis Martin, an analyst at Principled Technologies.
Expect the PCIe 6.0 specification to be released in 2021.