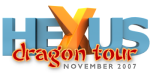 Floundering ABIT was purchased by Universal Scientific Industrial Co. (USI) just before COMPUTEX 2006 and was rebranded as Universal abit. USI specialises in computing, consumer electronics, communications and car electronics, acting as an ODM manufacturer for a number of well-known brands.

USI's broader product catalogue and larger coffers opens up the way for some interesting designs for abit to take a look at. One such pre-production idea is the 8in Magic DPF Printer that'll be marketed under the abit name once released in three months time.



Looks like a regular photo-frame, right? It is, in the main, sporting an 8in 800 x 600px TFT screen. The unit has 128MiB of onboard memory and offers slide-show viewing, just as you would expect.



You can transfer photos via the usual flash-based memory cards - SecureDigital; MMC; Memory Stick, MS Pro; XD - along with trusty USB2.0, but notice the buttons running down one side? They control the on-screen display and built-in printer.



Moving around to the other side, you can see the slot where the printed photograph emerges, some 45 second after clicking on the print button.



Here you see the cartridge-based printing system that's good for 36 photographs. Simply replace it with another once you run out. The one problem we foresee is in obtaining replacement cartridges at sane prices.

The printer outputs to 6in x 4in photographs of a surprisingly high quality (300dpi), as shown in the first shot.



The frame has a six-position adjustable stand and the bezel is removable; you can choose to buy a different surround if you become bored by the brown-coloured one that ships with the unit.



And, really, the output can be amazingly lifelike!

The 8in Magic DPF Printer (the name needs a bit of work, we reckon) should begin shipping in February 2008 with an estimated price-tag of $299 USD.