Renaissance: also not for the faint-hearted
Foxconn's high-end Bloodrage has the bells and whistles demanded by the enthusiast crowd, but the Taiwanese manufacturer has itself another X58 board that's supposedly more mainstream.
The board in question is Renaissance, and it's part of Foxconn's Digital Life range - which promises "high performance computing, connectivity and digital entertainment".
One would assume, then, that Renaissance would be priced somewhat below the £265 asking price of Bloodrage. Well, it is, but only just - consumers can expect to pay in the region of £255 for Renaissance when it arrives in December. So why exactly is it almost as pricey as Foxconn's range-topping alternative? Let's take a closer look.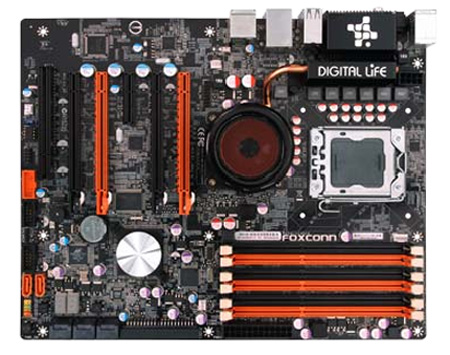 At first glance, one can see that Renaissance has a few notable changes when compared to Bloodrage. The board reverts to six closely-packed tri-channel DDR3 memory slots that allow for up to 24GB of DDR3 operating at overclocked speeds of up to 2,000MHz. That's both quicker in speed and larger in capacity than the "high-end" Bloodrage.
Elsewhere, users can expect Bloodrage-like features such as 100 per cent solid capacitors, ferrite chokes, a lesser six-phase PWM, as well as onboard power, reset and CMOS reset buttons, and the good ol' two-digit debug LED.
Unfortunately, and unlike Bloodrage, the board offers no option of mounting existing LGA775 CPU coolers.