In an effort to get water cooling tech as close to the heat sources as possible, Georgia Tech researchers made microfluidic passages in the chip die itself and pumped water though, to cool it down, reports PCPer. The results of the test were very positive; the same chip under air cooling ran at 60°C, using the 'on-die water cooling' technique (with 20°C water) the chip ran at a steady 24°C.
The researchers used a 28-nanometer Altera FPGA chip in their tests. Microfluidic passages were etched into the silicon and incorporated silicon cylinders of 100 microns in diameter. These channels were just a few hundred microns away from where the chip transistors were operating. A silicon layer was then used to seal over the fluid passages, except for an inlet and outlet.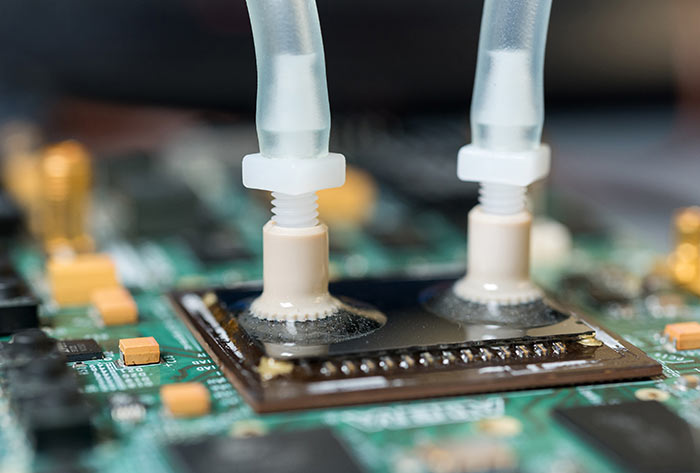 Turn on the pumps
De-ionised water, at 20°C, was pumped into silicon cylinders with an inlet flow rate of 147 millilitres per minute. The chip could operate at "temperatures more than 60 percent below those of similar air-cooled chips".
It is thought that applying this technology could eliminate the need for heat sinks or cooling fans on top of integrated circuits.
Disruptive technology
Muhannad Bakir, an associate professor at Georgia Tec, said "We believe we have eliminated one of the major barriers to building high-performance systems that are more compact and energy efficient". Bakir went further to suggest "We believe that reliably integrating microfluidic cooling directly on the silicon will be a disruptive technology for a new generation of electronics".
It is thought that, in the future, the new liquid cooling technique could help facilitate stacking multiple chips to allow much denser, higher-performance computing systems.