Intel's latest and greatest Core i7-6700K and Core i5-6600K unlocked multiplier Skylake processors for desktops are not bundled with a cooler. The firm managed to get away with not bundling any cooler as the K-designs are produced for enthusiasts who are very likely to have a preference for third party cooling solutions, whether they air or liquid based. With no other desktop Skylake processors launched yet, we haven't managed to see any Intel coolers in processor bundles.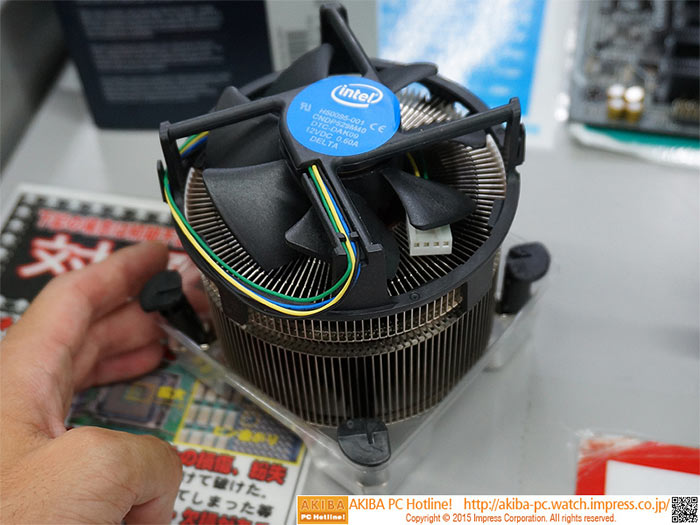 A few days ago Akiba PC Hotline published details and pictures of the first genuine Intel cooler designed for the LGA1151 platform. The Intel Thermal Solution TS15A is the product in the spotlight, and it is pretty hefty. It looks like a typical Intel design, with a central pillar from which radiate a circular array of fins, but it is really tall. Akiba says that it is "more than twice" the size of the LGA1150 retail cooler. That is clearly illustrated in the picture below.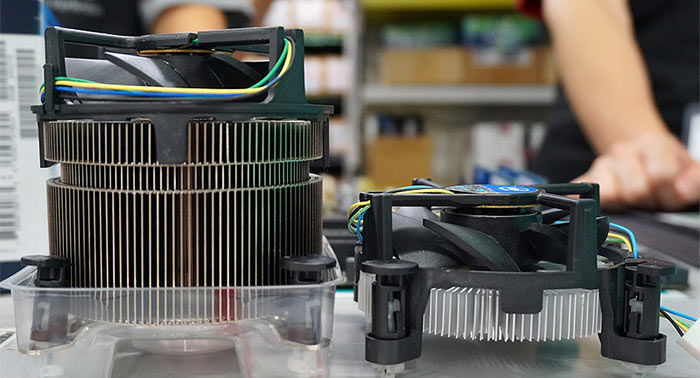 However the Intel TS15A may not be bundled with any upcoming Skylake processors, even the high end ones. I'd expect most retail Skylake processors for desktop PCs to come with a similarly compact cooler to the short LGA1150 example shown above.
According to Akiba PC Hotline the Intel TS15A was retailing in Akihabara district for ¥5162 (US$41.50, GBP£26.50, €37.50). That price puts it into direct competition with enthusiast favourite air cooling designs from the likes of Zalman, Arctic and Cooler Master.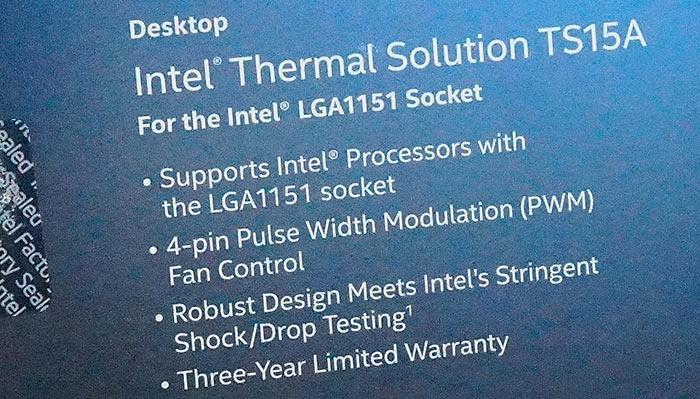 There's a smattering of technical data revealed by the cooler's packaging. The TS15A uses 4-pin pulse width modulation (PWM) fan speed control and has passed shock/drop testing. Buyers receive a three year warranty.
Looking at the pictures we can see the copper bottom contact surface of the cooler (below) and radial aluminium fin array meant to dissipate the heat from the centre. The fan sitting atop of the heat-column looks to be about 90mm, potentially more noisy than competitor solutions which often sport 120mm fans. Unfortunately we don't know the range of fan rotational speeds offered by the Intel TS15A.