So called slimline 'Kinetic Energy Coolers' are in the news again as Coolermaster has partnered with CoolChip Technologies and these coolers have been on demonstration at the International CES. We have looked at similar prototypes before, but they must have stumbled on their way to market. However CoolChip seems confident that its product can be realised and brought to market with Coolermaster's manufacturing muscle. The product should offer buyers significant benefits, for a minimal premium, over a standard heatsink and fan setup.

You might never have heard of CoolChip Technologies before. The company was founded back in 2010 by a pair of engineers who work at MIT. The team at CoolChip worked hard to break apart the apparently fixed relationship between size, thermal performance, power consumption, and sound in a traditional heatsink and fan setup. This week Coolchip's technology demonstration was live in the Coolermaster booth at the CES.

CoolChip claims its Kinectic cooler can provide improved cooling capacity per unit volume, improved cooling capacity per unit weight, better power efficiency, and quieter performance. PC Perspective spoke to Dr. William Sanchez from CoolChip who said that "Anywhere there is a fan today – you do much better with a kinetic air mover". He put that down to a larger heat transfer area and that the product is conducting heat straight from the heat-load. Compared to a similar performance traditional heatsink and fan the firm says its product is 20dB quieter.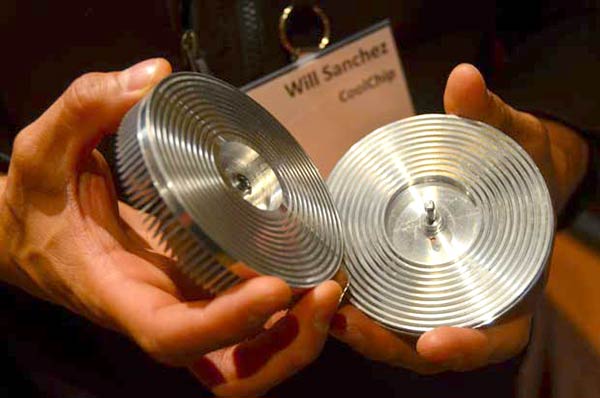 Later this year CoolChip and Coolermaster will launch a kinetic cooler product aimed at mid-level gaming systems. It is promised that there will be no big premium over a standard heatsink plus fan setup. "Cost was a key consideration" in the design and production plans insisted Sanchez. The firm is serious about its coolers becoming mass market devices. This and the simple business side of things lead it to partner with Coolermaster to gain economies of scale for production and access to Coolermaster PR resources.
Hopefully we should see some fruit from the CoolChip and Coolermaster relationship in time for Computex. The market ready products will be Coolermaster branded.