Thermaltake has launched a new liquid cooling system which it is aiming squarely at the PC enthusiast segment. The Taiwanese PC chassis, cooling and accessories firm wrote to HEXUS today to inform us about the Water 3.0 'Ultimate' cooling system. It is said to be easy to deploy, low maintenance, clean and universally compatible with any socket type.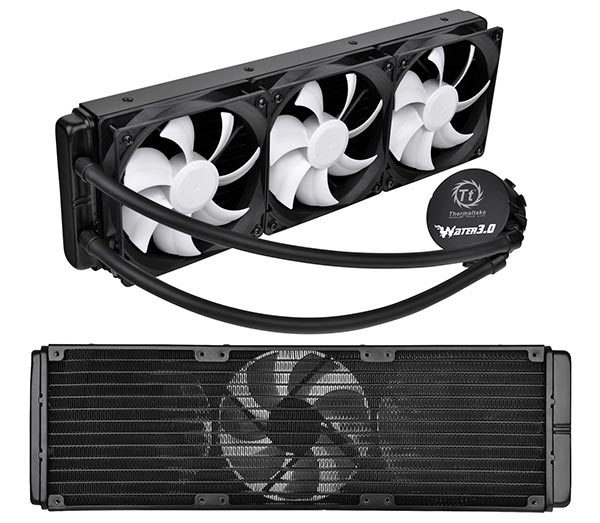 The Water 3.0 Ultimate will be among the largest all-in-one liquid cooling systems designed by Thermaltake to date. The firm already offers a variety of Water 3.0 systems with different sized single and dual fan port combinations but this new SKU uses a large 360mm radiator which supports up to six 120mm fans.
The Water 3.0 Ultimate has the following specifications: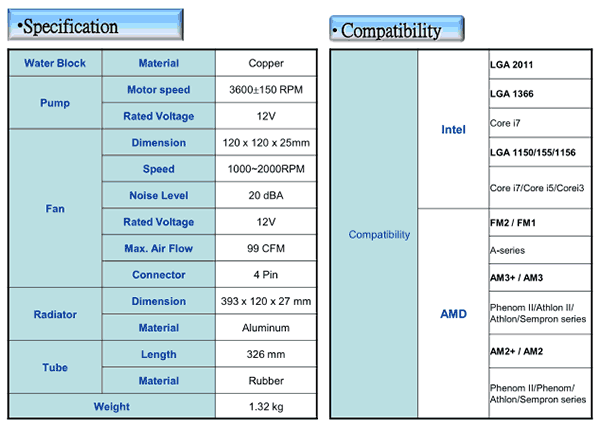 In addition to the above specs Thermaltake has informed us that the copper water block is fed by a high reliability and low profile pump which uses a pre-filled coolant. The tubes use a low evaporation material to prevent loss of fluid and should never need topping up.
The Water 3.0 Ultimate is equipped with three 120mm PWM fans which have a controllable range between 1000 and 2000 RPM. Thermaltake says that the large surface area radiator can be fitted with up to six fans should users feel the need to dissipate even more heat.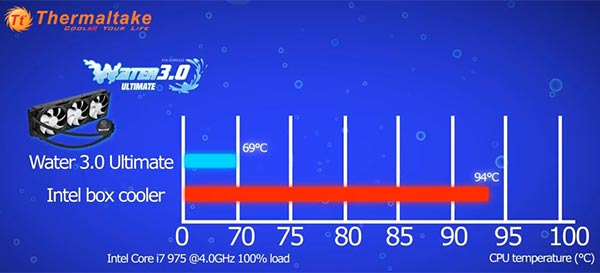 I don't have details of pricing or availability for the Thermaltake Water 3.0 Ultimate as the time of writing. There are currently some difficulties in reaching the Thermaltake Global website and though the other Water 3.0 coolers are present on the US site there is no web page dedicated to this 'Ultimate' model. Looking at the Water 3.0 Pro with a single fan which costs about £90 and the dual fan Water 3.0 Extreme at around £110 one might expect this latest and greatest iteration to cost in the region of £150.