Intel's Core i7 CPUs are undoubtedly the most powerful consumer processors on the market. Despite a host of power-saving features, though, the 130W TDP can test even the best coolers. A fanless heatsink for one of these beasts should, therefore, be unthinkable. Not, apparently, for the mad engineers at Thermalright who have come up with a cooler that manages exactly that.
Quiet as they come
The new HR-02 may look like a bit of a monster, but it has the power to cool Intel's best without the use of a fan at default voltage. To do this, the heatsink uses six 6mm-heatpipes and a multitude of cooling fins with holes drilled through each layer. According to the manufacturer, this helps to improve ventilation and allows the CPU to keep running at reasonable temperatures.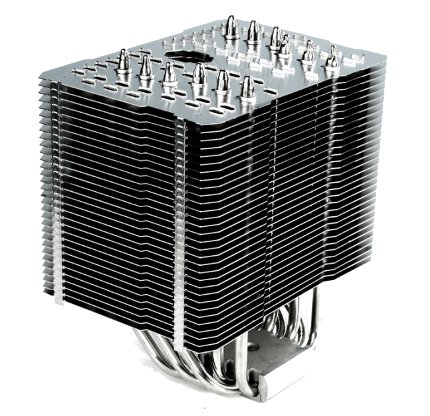 Of course, there's also room for a 140mm or 120mm fan, should you want to keep the air moving. The potent combination of a large cooler with a decent fan should leave plenty of headroom for overclocking, even at higher voltages.
A weighty problem
A heatsink this big is obviously going to weigh a fair bit, and the HR-02 alone tips the scales at a motherboard-bending 860g. Thankfully a heavy-duty mounting bracket for LGA 1366, 1156 and 775 CPUs is included, though you'll still want to be careful when transporting a PC with it installed. At 160mm tall, the cooler may also struggle to fit inside some of the smaller chassis out there. Despite its imposing size, though, Thermalright has done all it can to avoid large components on the motherboard and claims compatibility with more than 85 percent of boards.
We're not sure how comfortable we feel about relying on a passive cooler to chill a high-end CPU, even in a system with excellent airflow. Having said, we'd love to get our hands on the HR-02 to see how it performs against an overclocked processor with or without a fan. Thermalright tested the cooler with a Core i7 965, but we'd like to see if it can handle Intel's top-end six-core CPU as well.
We're not sure when this one will be available yet, or how much it will cost, but we expect it to appear at retail quite soon.