Cooler Master has sent an email to HEXUS detailing three new products for PC builders and enthusiasts. The headlining product is a high-end CPU air cooler featuring six heatpipes, a new silent fan design, and addressable RGB lighting. The firm has also launched a new flagship case fan, and an RGB LED lit GPU brace.
The new MasterAir MA620M CPU cooler, previously seen at Computex, is built around a dual tower black heatsink design with a uniform arrangement of six heatpipes. This easy-mount system CPU cooler makes use of Cooler Master's new SF120R fan and includes an addressable RGB controller with LEDs in the top of the cooler unit.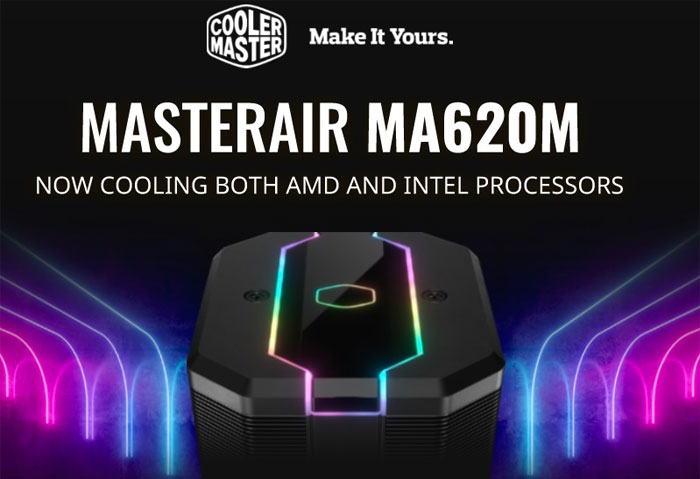 Cooler Master's SF120R fan (650 ~ 2,000 RPM (PWM)) includes a silent driver IC and is capable of a wide range of speeds. Users can tune it for silence of for maximum cooling – and balanced choices in between. Noise levels are said to be between 8 ~ 30 dBA.
A wired aRGB controller features the Cooler Master hexagon logo and can easily toggle through various lighting presets on the cooler top lighting badge.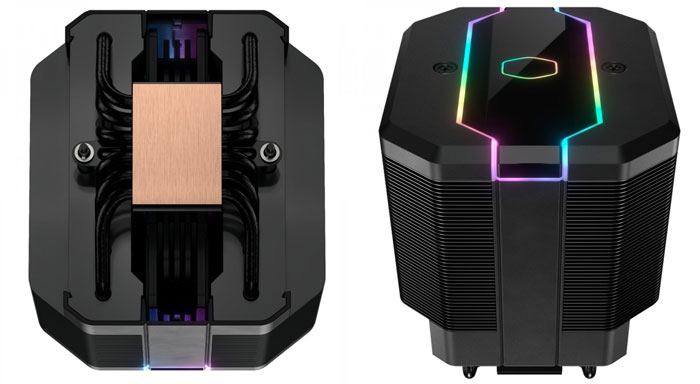 The MA620M measures 135 x 125 x 165mm and weighs in at a substantial 1.62kg. For this chunk of cooler you are expected to lay out a chunk of cash - £89.99.
Cooler Master's new SF120M case fan comes with a patented anti-vibration motor and damping frame design to deliver maximum airflow with minimum noise pollution. Its double ball bearing fan is said to have a long lifespan (5 years guarantee) due to low friction design – as well as ensuring quiet performance.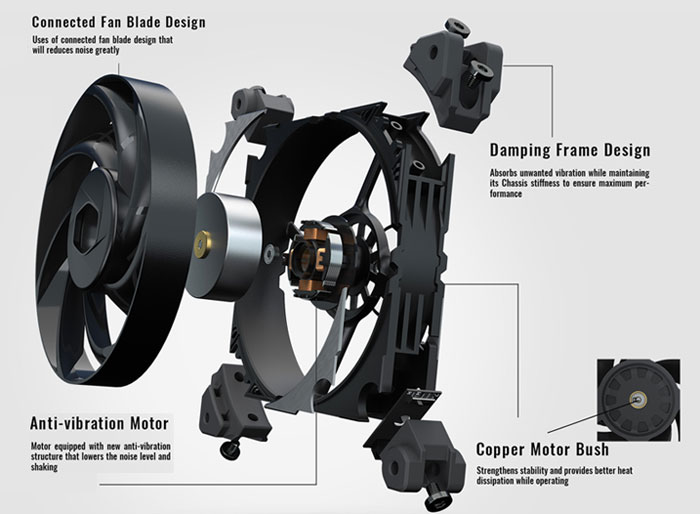 The interconnecting fan blade structure adds rigidity and increases fan performance, says Cooler Master. Meanwhile, improved cable management (detachable cable provided) adds to the utility value and flexibility to this product "designed purely with performance in mind". The SF120M has an MSRP of £24.99.
The Cooler Master ELV8 is a GPU brace with RGB lighting. It protects your GPU and motherboard with its structural qualities. Its universal GPU support adjusts both horizontally and vertically to reduce stress on your expensive components (supports from underneath in a tower system). The ELV8 is constructed of steel and plastic, measuring 305 x 52 x 6mm.

For extra frills, Cooler Master has implemented aRGB lighting in the ELV8 and this 5V component is compatible with most motherboard maker standards and adjustable via Cooler Master's own MasterPlus software (optional RGB controller needed) too. You can grab the ELV8 for £19.99.