Cooling product and accessories specialist Noctua has updated the Chromax line fan and heatsink accessories with new 'colours'. I've put colours in inverted commas as Noctua is introducing black, white, and grey accessories, and shades of grey exist where there is an absence of colour.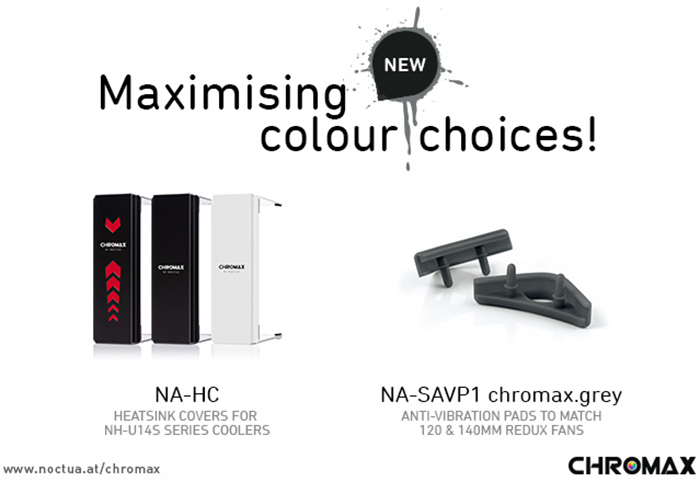 Noctua already produced its NA-SAVP1 anti-vibration pads in black, blue, green, red, white and yellow but has now added dark grey. The firm points out that this new grey choice would be "a perfect fit for the light and dark grey colour scheme of Noctua's 140 and 120mm redux line fans". Specifically it is talking about complementing the popular 140mm NF-P14s redux-1500 PWM and 120mm NF-P12 redux-1700 PWM fans. When you buy a NA-SAVP1 set you get 16 pads for outfitting up to 2 fans.

The Noctua NH-D15(S) and NH-U12S line CPU coolers have had Chromax covers available for a couple of years. Today the NH-U14S line of CPU coolers (NH-U14S, NH-U14S TR4-SP3 for AMD Threadripper, and NH-U14S DX-3647 for Intel Xeon) have gained greater customisation opportunities thanks to the introduction of the new NA-HC5 Chromax.black.swap, NA-HC6 Chromax.black, and NA-HC6 Chromax.white covers.

In a press release announcing the new accessories Noctua CEO, Roland Mossig, said that there has been "overwhelming customer response to our Chromax line," and the new options will open new colour co-ordination possibilities for customer fans and coolers. Mossig sought to turn the lack of RGB, or any form of, lighting into a positive, saying that builds using the new Chromax accessories would "impress with subtle, classy colour accents rather than overblown lighting effects".
MSRPs for the new products are as follows: EUR/USD 6.90 for the NA-SAVP1 Chromax.grey, and EUR/USD 19.90 for the NA-HC5 Chromax.black.swap, NA-HC6 Chromax.black and NA-HC6 Chromax.white. Noctua said that these accessories will be available immediately via its official stores on Amazon and eBay depending upon your region, and will roll out to other sales partners in due course.