Beige and brown cooling specialist Noctua has been showing off a bare metal passive cooling prototype at Computex 2019. The prototype doesn't have a code name or number but is simply and descriptively referred to as a premium Fanless CPU Cooler.
We have seen plenty of passive coolers previously, like the Thermalright HR22 and Arctic Alpine 11 - with a claimed 65W and 47W of cooling capacity, respectively. The new Noctua prototype massively outguns those predecessors with a performance target of 120W in a fanless case with good natural convection. If your system has a case fan or two (or you are willing to mount a quiet fan on the cooler), you can up the performance target to 180W.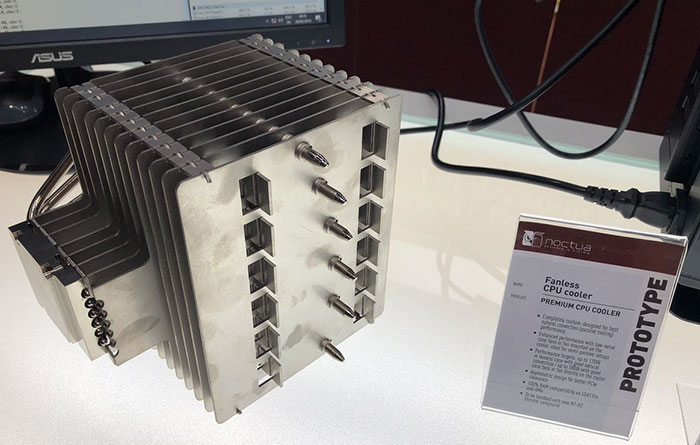 According to reports from the show floor the Noctua prototype can passively cool Intel's consumer high-end Core i9-9900K - an octa-core processor which runs at up to 5GHz and has a TDP of 95W. Actually this precise use case was being demonstrated by Noctua "in the hot conditions of the Computex show floor for several hours". PC Mag says it ran at a steady 95 degrees throughout the demo. It isn't clear what tasks the host PC was being put to.
Anyone with PC components experience over the years can probably easily guess how this prototype was constructed from the imagery. It is made with 1.5mm aluminium fins, threaded with six copper heatpipes which tunnel down to the CPU-contacting copper heatsink. The complete unit weighs an impressive 1.5kg.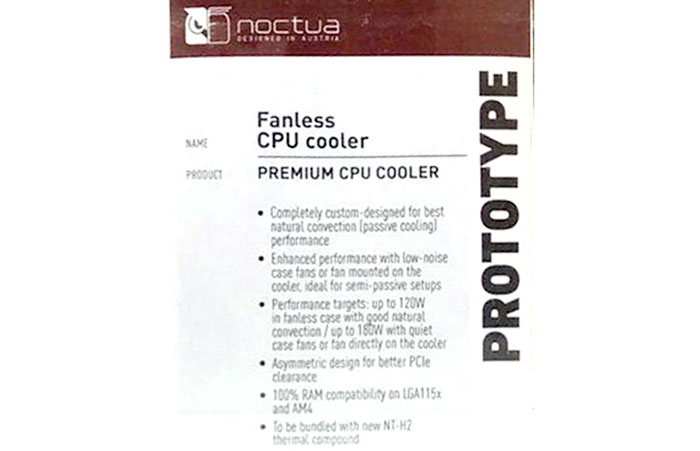 Physical dimensions aren't provided but you can see that Noctua has carved out some of the fin areas to provide acceptable clearance for PCIe devices and is said to not impede RAM clots on LGA115X or AM4 motherboards. Noctua will bundle some new NT-H2 thermal compound in the retail box.
We don't have any pricing or scheduled availability details at the time of writing.
Loading...
Been waiting a while?
Get Flash
to see this player.