Cooler Master is at Computex 2019 and is showing off a wide range of CPU coolers using different technologies. It has air coolers with heatpipes and vapour chambers embedded in the designs suiting various case sizes and TDP loads. However, it seems to have pushed the boat out further with its AiO coolers and is showing off one with a dual-pump, and another with a reservoir which has a whirlpool effect.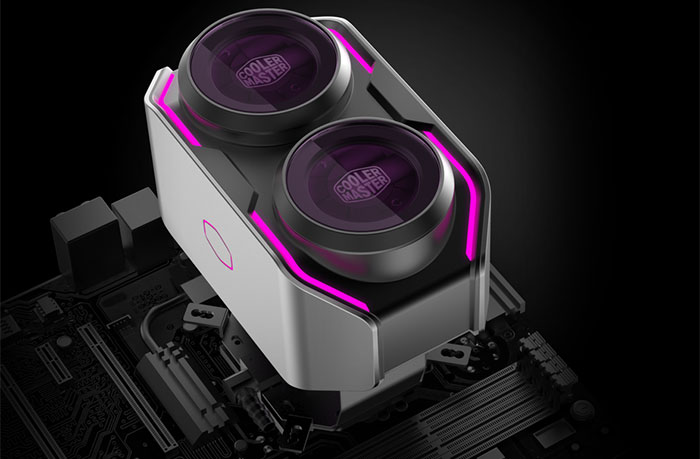 AiO coolers
The Cooler Master MasterLiquid Dual Pump AIO Design has an appealing design with RGB lighting and clean-lines, considering its more complex nature. In the CPU cooler block, as pictured, are dual pumps which are designed to work together by maximizing the flow rate and flow pressure of the coolant to the water block.
It is claimed by Cooler Master that the enhanced flow rate and flow pressure of the coolant "will dissipate the CPU heat at a much faster rate compared to the traditional AIO liquid coolers". Pricing and availability of the Cooler Master MasterLiquid Dual Pump AIO is yet to be finalised.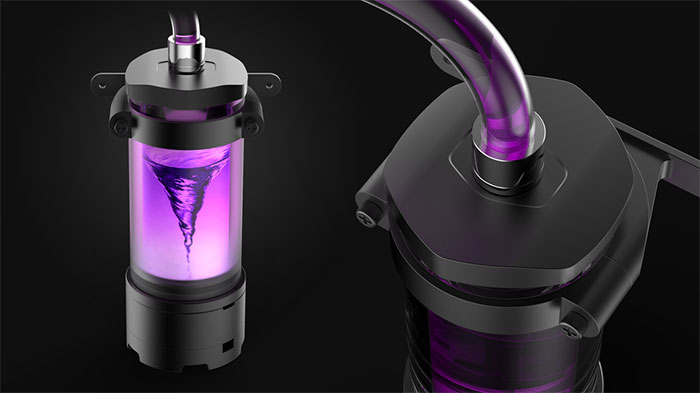 Another head-turning design is the MasterLiquid Maker 240 New Edition. Cooler Master equips this design with a newly designed reservoir and pump that "creates a liquid vortex", or whirlpool effect. This effect is generated by liquid flowing into the top of the reservoir and being pumped out of the bottom. For the ultimate eye-candy the reservoir is equipped with addressable RGB (ARGB) LED lighting.
Cooler Master says that the MasterLiquid Maker 240 New Edition will arrive this October, and be available for a starting MSRP of $299.99- $349.99.
The final new AIO cooler is the MasterLiquid ML240P Mirage. This is a more traditional single pump design with 240mm RGB radiator, as you might guess from the name. It uses a transparent pump cover, showing the impeller in action, and incorporates eight ARGB LEDs around the internal rim of the pump complementing those on the radiator.
The Cooler Master MasterLiquid ML240P Mirage will become available in June 2019 for a starting MSRP of $139.99.
Air coolers and fans
The MasterAir Maker 3DVVC is created with Cooler Master's 3D Vertical Vapour Chamber technology, used instead of heatpipes. Cooler Master says that the vapour chamber "is precisely shaped into a U shape configuration to evenly distribute the CPU heat into the aluminium fins," and these are in-turn cooled down by two 140mm fans.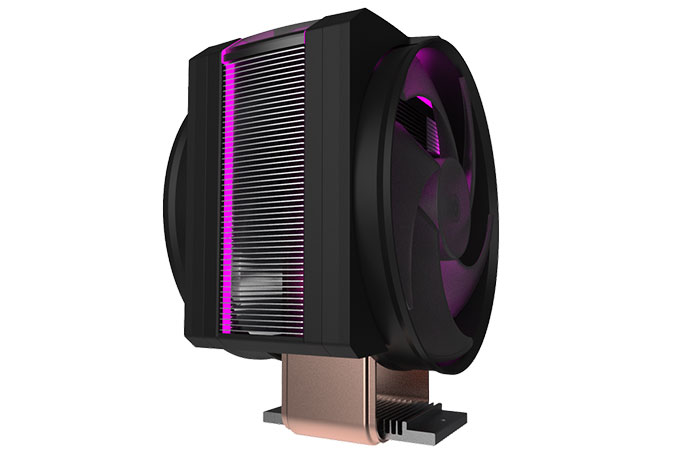 Cooler Master's MasterAir Maker 3DVVC won't be available until December 2019, for a starting MSRP of $129.99.
A more traditional but definitely Cooler Master design comes in the shape of the MasterAir MA620M. This cooler features dual blacked out aluminium towers with a uniform 6 heat pipe layout to dissipate heat evenly. Other key features include the Silencio FP120 fan and addressable RGB LED lighting. This cooler will arrive in August with an MSRP of $99.99.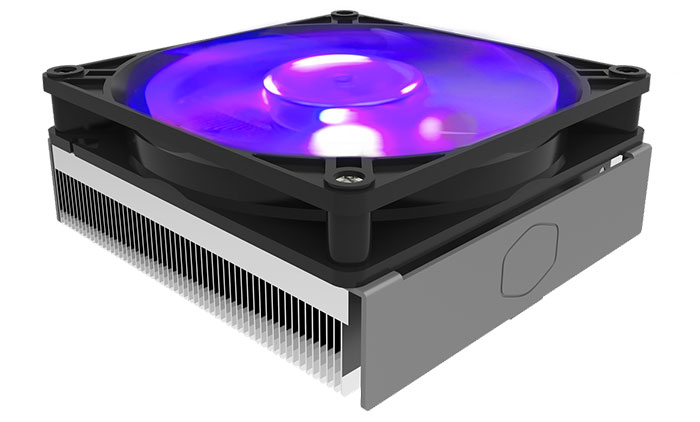 Those in the market for an SFF cooler might be interested in the MasterAir G200P (pictured above) and G400P. These are ultra-low profile designs (39.5mm for the G200P with 2x heatpipes, and 58mm for G400P with 4x heatpipes). Cooler Master hasn't neglected RGB frills for these compact units which will become available in August for $39.99, and after CES 2020 for $39.99, respectively.

Last but not least, Cooler Master has released the MasterFan SF Series with a new square frame shape and addressable RGB lighting. The SF120R ARGB, SF240R ARGB, and SF360R ARGB will be available in different sizes of 120/240/360mm with integrated fan frame design. Pricing is $19.99 (SF120R ARGB), $39.99 (SF240R ARGB), and $49.99(SF360R ARGB).
The new MasterFan SF120M will become available in September 2019. It utilises a patented square 120mm metallic damping fan frame, said to reduce vibration and internal friction. The fan uses double ball bearings and can be mounted for push or pull while keeping the max noise level down to 26dBA. Cooler Master intends to price the MasterFan SF120M at $29.99.