Now you can use your notebook without burning your lap!
Your laptop might be cool, but users taking advantage of Thermaltake's iXoft notebook bag are undoubtedly keeping cooler.
That of course is thanks entirely to the patented iXoft cooling technology which utilises thermal shifting chemicals to spread heat out evenly across the base of the bag.
Thermaltake states: "The material melts into a gel state when heated and solidifies into crystal state when cooled. Without any fans or active mechanics used, iXoft is not only maintenance-free with zero energy consumption, but it generates no noise at all during operation."
What they're trying to say is that the sodium sulfate decahydrate found inside the bag will distribute heat more effectively than any other material.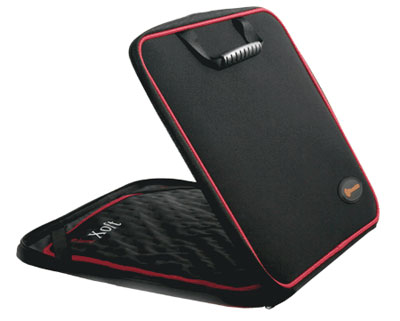 The iXoft bag will support notebook sizes of 10in - 15in and provides anti-shock protection in the form of high density memory foam surrounding the bag. When using your laptop inside the bag and on your lap, Thermaltake claims the thermal mat will neutralise heat for better comfort.
At present, it's only available in black with a red stitching, well, "sporty red" according to Thermaltake. No official word on pricing just yet but it shouldn't be long before these start to appear.
Official product page: Thermaltake.com