Thermaltake first to offer complete ESA setup
Thermaltake announced today that it has become the first hardware manufacturer to provide a complete ESA solution.
ESA, designed by NVIDIA, is an open-standard PC monitoring solution allowing real-time communication and control of a system's thermal and electrical operating characteristics. The three components within an ESA system that provide real-time monitoring abilities are the power supply, chassis and liquid cooling system.
Thermaltake, a Taiwanese manufacturer, will be offering ESA certified components in all three areas with the following products:
Armor+ ESA Chassis
Toughpower ESA 850W Power Supply
Bigwater 780e Liquid Cooling System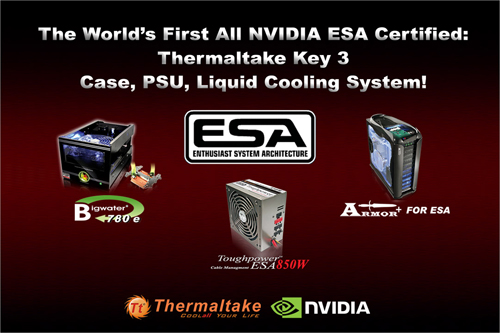 Though a specific launch date hasn't yet been announced, Thermaltake state that that "these ESA certified hardware will soon be available on the market in the first quarter of 2008 according to regions". For the complete product specifications, please refer to the product pages below.
Official press release: The World's First All NVIDIA ESA Certified: Thermaltake Key 3 Case, PSU, Liquid Cooling System!
Official product pages:
Armor+ ESA Chassis
Toughpower ESA 850W Power Supply
Bigwater 780e Liquid Cooling System