A product has been launched to facilitate direct die cooling on the Intel Skylake-X Socket 2066 platform. The new der8auer Skylake-X Direct Die Frame (or SK-X DDF for short) completely replaces Intel's ILM (Integrated Loading Mechanism) as well as the mounting holes for the CPU cooler. Once installed you can simply, safely and efficiently cool the processor with a direct contact heat block, via a standard air or liquid AiO cooler, for example. According to der8auer use of the SK-X DDF can result in an up to 25-30°C temperature reduction, providing latitude for a significant OC performance improvement.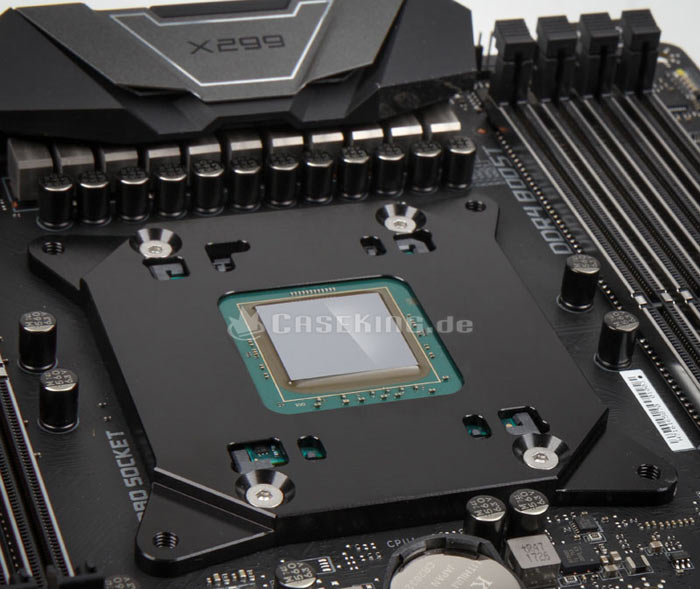 Key features of the der8auer Skylake-X Direct Die Frame according to the designer and CaseKing are as follows:
Allows the CPU to be operated and cooled without a heatspreader
Secure mounting for maximum cooling performance
Compatible with current Socket 2066 motherboards
Manufactured in high-grade black anodized aluminium
In explaining the necessity to employ the SK-X DDF to get the best clockspeeds from your Skylake-X processor it is explained that Intel's Thermal Interface Material (TIM), located between the heat spreader and the silicon chip, offers only low levels of thermal conductivity. With any higher level overclock the TIM will struggle. In effect it will work as a barrier to cooling rather than a facilitator in these cases and that has lead to overclocking enthusiasts delidding these CPUs and reassembling with something better. The new SK-X DDF cuts out a lot of the work above, as once you delid and install the frame you are ready to easily install processors and coolers that directly cool the CPU.
Of course to get started you will have to delid and clean your processor. CaseKing also sells der8auser's Delid-Die-Mate X, but it's possible to complete the process without specialised accessories. Both the 2000+ pin CPU delidding and installation of the SK-X DDF will invalidate hardware manufacturer warranties and are at the end user's own discretion and risk.
The SK-X DDF is constructed with "German Engineering Perfection," say the makers. Interestingly, the outer edge of the der8auer Skylake-X Direct Die Frame is located a mere 0,1 mm below the silicon chip itself, "effectively preventing any unwanted tilting of the CPU cooler and protecting against damage". Another nice aspect of the design is that the frame's black anodized coating is an electrical insulator.
der8auer's Skylake-X Direct Die Frame isn't compatible with every cooler out there. Those that have fixed mounting heights are not able to be mounted, for example. However, water coolers from EKWB, Aquacomputer as well as AiO watercoolers from Corsair and NZXT are guaranteed to fit.
The SK-X DDF is available now direct from CaseKing.de for €69.90.
Technical Details:
Type: CPU mounting frame
Material: Anodized aluminium
Colour: Black
Compatible with all Socket 2066 motherboards
Compatible with all Intel Skylake-X processors
Includes:
> 1x Direct Die Frame
> 1x Back plate
> 5x M3 screws
> 1x Hex key
> 1x Torx key
> 1x Plastic spatula