A new standard in computer cooling?
That's what CoolIT Systems claims its new products to be. Let's have a look at what it has in store.
First up, the CoolIT Freezone Elite pictured below. The Elite utilises liquid cooling and thermo-electrics to bring CPU temperatures down to what CoolIT claims to be "unprecedented levels". Featuring a 120mm fan, heat dissipation of up to 250W and an all black faceplate, the Elite certainly looks the part. It comes complete with a control centre that'll allow you to keep a watchful eye on your CPU temperature. The cost of this ESA certified cooler? $449.99.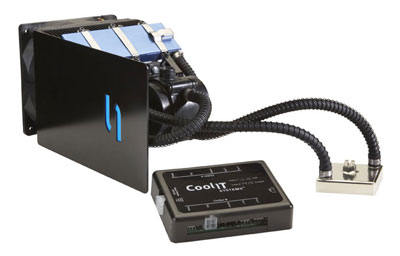 Next up is CoolIT's entrance into the GPU cooling market with its Dual Drive Bay VGA Coolers. These GPU cooling solutions ensure a low profile PCI card height whilst providing optimal cooling and reduced noise. The Dual Drive Bay VGA Coolers are currently compatible with ATI HD 2900, ATI HD 3870, HD 3850, NVIDIA 8800GTX, NVIDIA 8800GT, NVIDIA 8800GTS 512 and NVIDIA Tesla graphics cards and are available for $299.99.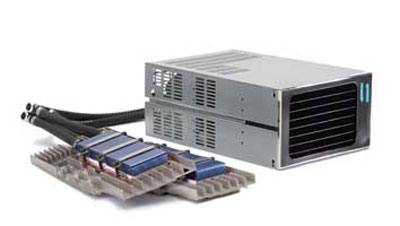 If you're looking for something a little less pricey in the CPU cooling department than the aforementioned Freezone Elite, then CoolIT has the Pure as an alternative. This closed loop radiator and pump module is designed to efficiently dissipate heat from the CPU. Though without peltiers, CoolIT claim the Pure "still yields phenomenal performance while simultaneously reducing system noise". It's compatible with any processor and available now for $134.99.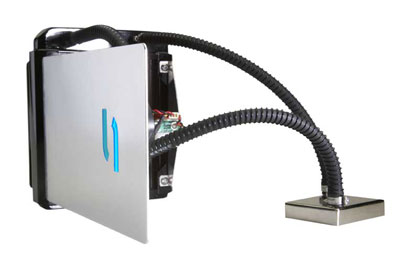 One can't boast a new standard in computer cooling without a very efficient case and CoolIT has a solution for that too. Here is the Boreas MTEC Chassis, which as it turns out is actually a combination of CoolIT's liquid cooling device, the Boreas, and Silverstone's TJ-07 aluminium tower case. The Boreas provides 12 Thermoelectric Coolers and will cool multiple CPUs and GPUs. It comes pre-plumbed and is universally compatible. It can be yours for $949.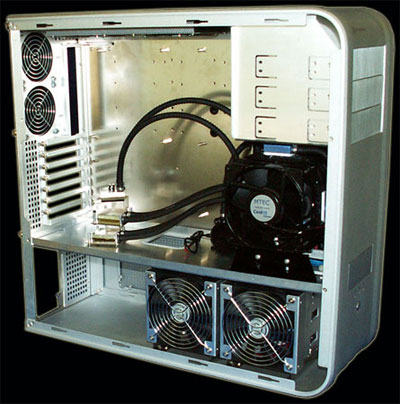 CEO of CoolIT Systems, Geoff Lyon, says "PC Enthusiasts and gamers everywhere have a lot to be excited about with CoolIT's aggressive, new lineup". You tell 'em Geoff, that's quite the lineup you have there.
Official press release: CoolIT Systems to Debut 2008 Lineup of Liquid Cooling Innovations at CES
Official product pages:
CoolIT Freezone Elite
CoolIT Dual Drive Bay VGA Coolers
CoolIT Pure
CoolIT Boreas MTEC Chassis