Walnut, California-April 26th, 2021-Thermaltake, the leading PC component brand offering premium solutions for cooling, gaming peripherals, and enthusiast memory solutions, is proud to announce the availability of the TOUGHAIR 510 and TOUGHAIR 310 CPU Air Cooler in North America. TOUGHAIR CPU Air Coolers utilize next-gen high static pressure fans leveraging the advanced design concept from TOUGHFAN 12 as well as providing a new level of thermal performance and reliability to the vertical heatsink tower. The dual-fan tower design, TOUGHAIR 510, and the vertical single-fan tower, TOUGHAIR 310, are the smart choices for hardcore gaming systems to guarantee excellent air-cooling performance on the latest Intel and AMD platforms.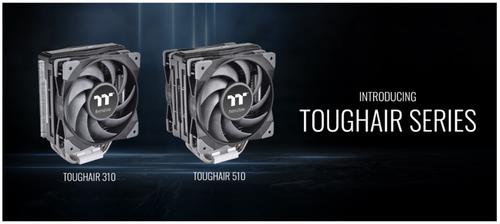 "The launch of the TOUGHAIR 510 and TOUGHAIR 310 is the great pride from our engineering team who have created a no-compromise cooler with excellent thermal performance and done our best to deliver what PC enthusiasts are expecting from the products deserving of the name TOUGH.," said Michael Guo, VP at Thermaltake USA.
The high static pressure fan configurations found on THOUGHAIR 510 and THOUGHAIR 310 provide approximately 58.35 CFM @ 2,000 RPM of airflow and features a controllable fan speed between 500 RPM to 2,000 RPM. Each fan is equipped with an advanced Gen.2 hydraulic bearing, LCP-made fan blades, and an anti-vibration mounting system for the best long and silent operation.
The heatsink is built using four direct contacted 4 x Ø 6 mm copper heat pipes with a maximum power handling of 180W TDP, ensuring the CPU's heat will be bringing up to the fins entirely. The heatsink is designed with an optimized asymmetric fin structure to maximize the airflow and minimize air turbulence. Installing the TOUGHAIR 510 and TOUGHAIR 310 is simply easy due to the universal socket design retention system that is fully compatible with all the latest Intel and AMD CPU sockets.

Backed by a Thermaltake limited 2-year warranty, TOUGHAIR 510 and 310 CPU Cooler are now available at major retailers in the USA and Canada.
MSRP:
TOUGHAIR 510: $59.99
TOUGHAIR 310: $39.99
Availability:
Amazon US
TOUGHAIR 310: https://amzn.to/3fsBpCv
TOUGHAIR 510: https://amzn.to/2OWxB1n
Newegg:
TOUGHAIR 310: https://bit.ly/3eoOQkz
TOUGHAIR 510: https://bit.ly/3sHnviE
Product image download: https://bit.ly/2PXx2oa
TOUGHAIR CPU Air Cooler Specification
Model

TOUGHAIR 310

TOUGHAIR 510

P/N

CL-P074-AL12BL-A

CL-P075-AL12BL-A

Compatibility
(CPU Socket)

Intel LGA 1200/1156/1155/1151/1150
AMD AM4/FM2/FM1/AM3+/AM3/AM2+/AM2

Dimension

123.6 x 71.7 x 159.5 mm

123.6 x 98.8 x 159.5 mm

Heatsink Material

Aluminum Fins

Heatpipe

Copper Heatpipes
Φ6mm x 4 pcs

Fan Dimension
(L x W x H)

120 x 120 x 25 mm

Fan Quantity

1 pc

2 pcs

Fan Speed

PWM 500 ~ 2000 RPM

Rated Voltage

12V

Start Voltage

6.0 V

Rated Current

0.48 A

Power Input

5.76 W (one fan)

Air Flow.

58.35 CFM (one fan)

Air Pressure.

2.41 mm-H2O (one fan)

Acoustical Noise.

23.6 dBA

Lifetime

40,000 hours

Pin Connect

2510 - 4Pin

Cooling Power

170 W

180 W