Hardware
Before we explore the Transformer Prime's various components, let's address the Wi-Fi issues that are circulating around the web. As far as we can tell, ASUS's first batch of US review samples experienced poor Wi-Fi reception. We're happy to report that no such problems are visible on our machine, and ASUS's UK representatives have told us that any such issues have been ironed out, adding that the Transformer Prime is on schedule for a January release.
Display and sound
A good display can make or break a modern-day tablet (or any other computing device for that matter), and the good news is that ASUS's Super IPS+ panel very much makes the Transformer Prime.
Measuring 10.1in from corner to corner, the 1,280x800 LED-backlit display is made with tough Corning Gorilla Glass and supports 10-finger multi-touch. The resolution, material and multi-touch support are to be expected on most high-end Android tablets, but what sets the ASUS panel apart is a Super IPS+ mode that cranks brightness up to a maximum of 600nits. It's great for outdoor viewing - though don't expect miracles in direct sunlight - and even with Super IPS+ turned off, the image remains stunningly bright and vivid. We kept screen brightness at around 50 per cent during use, and rarely felt the need to dial it up any higher.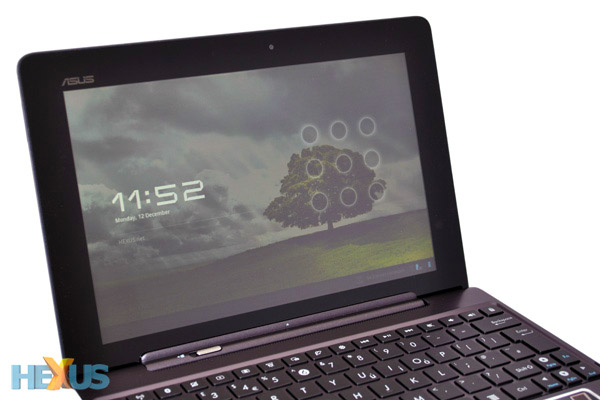 Brightness just isn't a problem, and neither are viewing angles. ASUS officially quotes a 178° wide viewing angle, and what that means for the everyday consumer is that you can look upon the 10.1in display from almost any angle and maintain a crisp, clear image. No matter how far we turned or dipped the Prime, the on-screen image remained clearly visible with little sign of washed-out colours.
The display is without a doubt one of the Prime's strongest features, but it isn't entirely fault free as we experienced an unexpected occurrence of backlight bleed. It's most visible during dark scenes or images (the boot sequence being a good example), and the bleed is most severe along the right edge of the screen. The out-of-place glow came as a surprise on a panel that excels in other areas, and ASUS has stated that it hasn't received any similar reports - which suggests that the bleeding issue is limited to our early review sample. Either way, we'll have our hands on a replacement model soon enough, so we'll find out one way or another.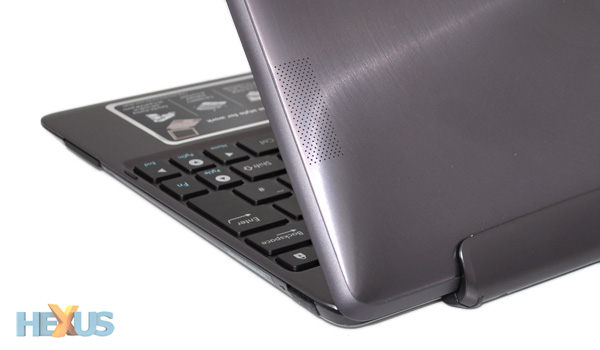 Sound is an area that often feels like an afterthought on mobile computers such as the Transformer Prime, but this too is an area in which ASUS has attempted to be more than merely average.
The single 17mm x 12mm SonicMaster speaker (sorry, stereo hopefuls) is housed along the short edge of the tablet, and while it's at risk of being covered by your hand, it produces surprisingly decent sound. You won't be partying along with it, but if you've become accustomed to lacklustre tablet/laptop sound, the Prime packs enough volume and clarity to come across as a pleasant surprise.
The dock
The tablet portion of the Transformer Prime is impressive in its own right, but the product as a whole gets its name and its unique identity from the bundled keyboard dock.
In keeping with the rest of the machine, the dock has been given a makeover and is now thinner and sleeker than the original Transformer, but it isn't backward-compatible, so those of you harbouring hopes of using this new keyboard with your old tablet are out of luck.
As mentioned earlier in the review, ASUS will only be offering one Transformer Prime bundle to UK consumers; whether you want the keyboard dock or not, you're going to get it. We prefer to have the choice, but the dock is no bad thing. In addition to providing a dedicated keyboard and trackpad, it increases the system's overall battery life and adds a single USB 2.0 port and an SD card reader that can be used to expand storage beyond the default 32GB.
It's a no-brainer, really, as ASUS's thinner design makes the dock an attractive addition to the Prime, and a combined system weight of 1,135g won't exactly weigh you down. Sure, the dock makes the whole thing look a little too much like a netbook for our liking, but the build quality remains top notch and the fit between the two components is suitably snug. The tablet slots into a connector hinge at the back of the keyboard and locks securely into place, while a small release switch allows the two components to separate.
A match made in heaven? In many ways, yes, but the dock does carry across some failings typical of compact keyboards. The keys, as expected, are a little small and the cramped shift keys take some getting used to, and the whole keyboard is a little on the light side, so users tilting the display further back will find the system at risk of toppling over. The tablet portion weighs 594g, while the dock tips the scales at 541g, so the tendency to lean backward shouldn't come as a surprise, but it can be difficult getting the Prime to sit just right - particularly when using it on an unsteady desk such as your lap.
A bit of extra weight wouldn't have gone amiss, and backlit keys would have been a bonus, but the keyboard on the whole is pleasant to use and if you've become tired of on-screen panels, the physical keys will be a breath of fresh air. Simple tasks such as entering URLs and sending emails are made easy, and the keyboard has a bunch of Android-specific shortcuts - including a dedicated Home key - that help speed up navigation. We didn't get a lot of use out of the integrated multi-touch trackpad as we found it easier to reach out and touch the screen, but the trackpad is responsive enough, and if you insist on alternative input methods, the dock's USB port allows you to hook up an external mouse.
There's no denying the value of the dock, but we'd quite happily live without the keyboard and trackpad. What's harder to let go of is the extended battery life, and we'll cover that in greater detail later in the review.
Camera(s)
Up until now, tablet cameras have been good for one thing only; the occasional webcam chat. That changes with the Transformer Prime as ASUS has included an 8-megapixel shooter with auto-focus and LED flash around the back of the device, as well as a 1.2-megapixel camera up front.
The latter delivers good enough results for over-the-air video calling, but it's the 8-megapixel camera that manages to impress. You won't be packing up your DSLR of course (or your point-and-shoot for that matter), but if you're happy to lug around a 10in capturing device, you'll find the Prime able to deliver good quality images and decent 1080p video.
The above samples show the camera at work in various lighting conditions, and the image quality is the best we've seen from any tablet - in terms of camera capabilities, the Prime is head and shoulders above Apple's iPad 2.
That isn't to say the camera is great - we found auto-focus to be sluggish, and the on-screen controls aren't ideal - but you certainly wouldn't mind sharing photos captured on the Prime with family and friends. If you're going to include a camera, it may as well be a good one, and ASUS's thankfully is.
Overall, the hardware is about as good as it gets, and we can't think of a tablet that's better equipped or as well built, but these components won't mean a lot if the accompanying software isn't up to scratch.