Introduction
Remember when tablet computers were dismissed as oversized smartphones with names that sounded like female hygiene products? Boy how times have changed. Since the launch of the iPad in April 2010, Apple has gone on to sell over 40 million tablets, and the market for such devices has been transformed from practically non-existent to buoyant and burgeoning.
Everyone wants their slice of the pie, and while Apple is expected to keep rolling out new iterations of the iPad year after year, Microsoft will soon release a tidal wave of Windows 8 tablets, and there's an ever-increasing number of rival Android solutions.
In terms of the latter, ASUS's Eee Pad Transformer Prime is being touted as the latest "iPad Killer" - which for all but the most devoted Android followers translates to "a great alternative." The iPad's not going to disappear, folks - at least not anytime soon - but does the Eee Pad Transformer Prime have what it takes to eat into Apple's market share and succeed where the likes of HP and BlackBerry have failed? Let's find out.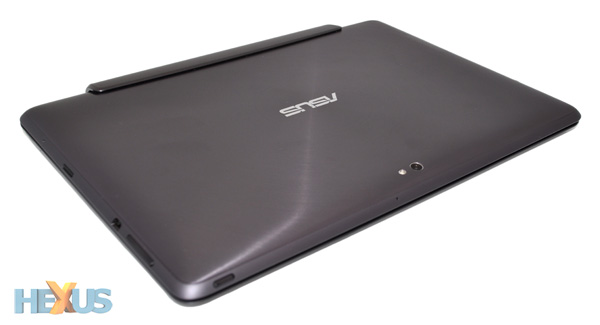 Design
The Eee Pad Transformer Prime is destined to become one of the hottest Android tablets of 2012, and it's quite easy to see why. The machine, available in your choice of "Amethyst Gray" (pictured) or "Champagne Gold," is lovely-looking and features the sort of hardware that puts most other tablets to shame.
On the outside, ASUS has finished the Prime's aluminium lid with the same hairline-spun concentric circles that adorn the company's Zenbook. The effect is both beautiful and eye-catching, and you'll be hard pushed to find a better-looking tablet on the market today; or indeed one that's sleeker. Measuring just 8.3mm thick and weighing 594g (compared to the 8.8mm-thick, 601g iPad 2), the Prime's tablet portion is about as thin as they come and the svelte profile rounds off ASUS's exemplary look and feel.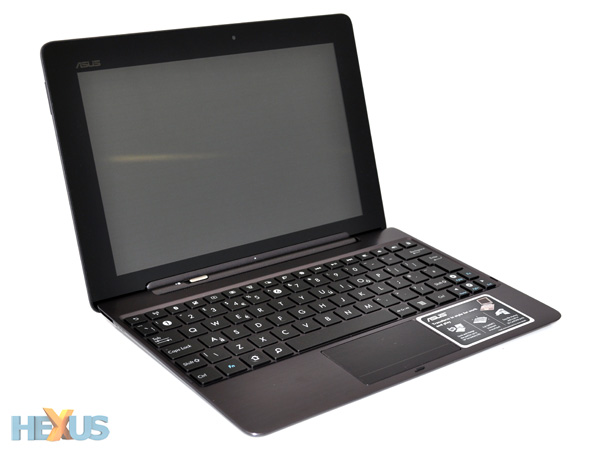 Of course, there's also the bundled keyboard to consider. Like the original Transformer, the second-generation Prime can be used as a standalone tablet or as a complete laptop-like machine. Both components lock together perfectly, and the addition of the keyboard has obvious benefits - there are physical keys, for starters, as well as an integrated multi-touch trackpad and a wider range of I/O ports.
It's worth making a note of these "extra" features, as they won't technically be optional for UK consumers. When the Eee Pad Transformer Prime lands on our shores in January, British buyers will have only one configuration to choose from; a 32GB Wi-Fi-only bundle priced at £499 that includes the detachable keyboard dock.
That's £20 more than the equivalent-capacity iPad 2 (or £100 more than Apple's entry-level 16GB model), and about the same price as a mid-range Windows laptop. The Transformer Prime isn't cheap, then, but it does offer more than your average tablet PC.
In addition to the top-notch build quality, the Transformer Prime provides a 1.2-megapixel front camera, an 8-megapixel rear camera with auto-focus and LED flash, micro-HDMI output, a micro-SD card slot, 40-pin connectors for charging and docking with the keyboard, and all the usual tablet buttons; including a volume rocker, power button and headphone jack.
The system's connectivity options are then further augmented by a USB 2.0 port and an SD card reader housed on the keyboard. The combination of the two provides a good range of ports, but the real treat is the dual battery. ASUS equips the tablet portion with a 25Whr battery, and there's a second 22Whr battery housed in the keyboard. Both are non-removable, but put the two together and ASUS reckons the Transformer Prime will deliver an incredible 18 hours of battery life.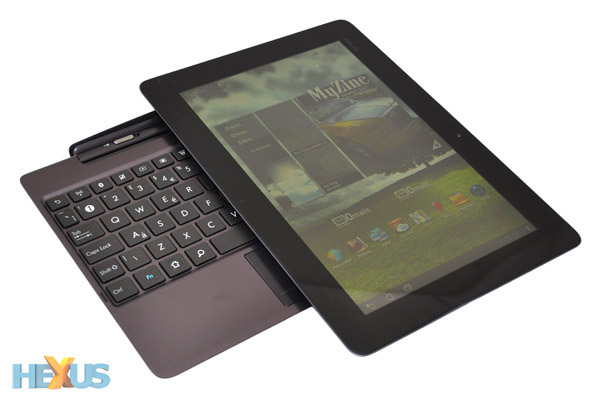 There's enough battery life to outlast most long-haul flights, plenty of connectivity options, an 8-megapixel camera, a 10.1in Super IPS+ multi-touch display, and a dedicated keyboard - all delivered in a gorgeous-looking package. Can it get any better? Well, yeah, it can, as the Transformer Prime is also the world's first quad-core tablet.
NVIDIA Tegra 3
While most rival solutions are making do with dual-core processors, the Transformer Prime has the privilege of being first to market with NVIDIA's quad-core chip, Tegra 3.
Described by NVIDIA as a "mobile super processor," the 1.3GHz quad-core Tegra 3 touts a 5x performance boost over the 1.2GHz dual-core Tegra 2 and NVIDIA isn't shy in detailing the potential benefits. According to the manufacturer, Tegra 3 will deliver "unprecedented performance in a wide range of mobile devices," "extreme multitasking," "the best Web experience, with up to two times faster browsing and hardware-accelerated Flash," and "console-quality gaming" from the integrated, 12-core GeForce GPU. No pressure then.
NVIDIA's promise of high-performance mobile computing is hard to miss, but Tegra 3 also features patented Variable Symmetric Multiprocessing (vSMP) technology that's used to lower power consumption in certain scenarios and consequently increase battery life.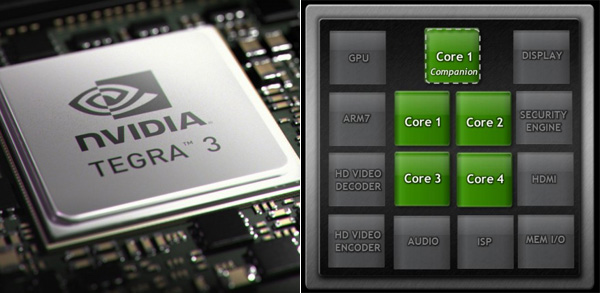 Put simply, vSMP technology entails the inclusion of a fifth companion core built using a low power silicon process that allows it to use less energy at low frequencies. In Tegra 3, the hidden companion core is based on the same internal architecture as the main Cortex A9 CPU cores, but is capped to run at speeds below 500MHz. NVIDIA states that the companion core is used primarily when the device is in standby performing background tasks such as email downloads and Facebook updates, but adds that the fifth, less-publicised core could also come into play for tasks that require little CPU power such as audio or video playback - both of which can be processed by dedicated hardware encoders and decoders.
It's a clever balance of high performance and low power consumption, and better still, it's all transparent to the operating system. By implementing patented CPU management logic, the Tegra 3 chip automatically turns the companion core on and off based on CPU workload - when you're not tasking the system, you'll automatically be using the low-power companion core, and when you need the performance, you'll dynamically switch to the four main cores. Built using a fast process technology, the four primary cores are likely to experience more power leakage, but are able to operate at multi-core speeds of up to 1.3GHz across the board, or up to 1.4GHz on a single core.
Tegra 3 promises a lot, and we'll find out how it compares to Apple's dual-core A5 processor in our performance evaluation later in the review, but first let's get a closer look at the Transformer Prime's hardware and software.