As readers are probably aware the next big tech events on the calendar are the Mobile World Congress (MWC) and the Game Developers Conference (GDC). Both events kick off in a little under three weeks from now on 2nd March. We've already heard some juicy morsels about what will/might be happening at both events. Now we've just seen official confirmation that Microsoft will be holding a press conference on 3rd March at MWC, the day after Samsung is hoping it has already stolen the show with its own Galaxy Unpacked presentation.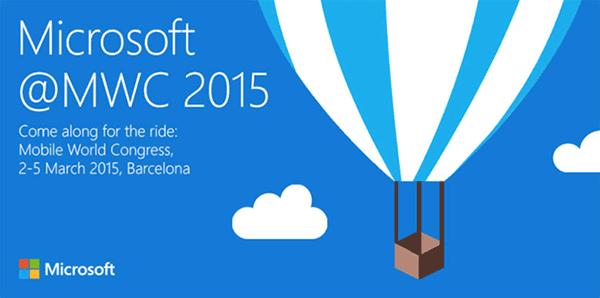 Details about what Microsoft will be talking about and/or revealing haven't been officially hinted at, however GSM Arena thinks that "it's safe to assume we're going to see some new phones getting unveiled". Despite the length of time since the last Lumia flagship was revealed, under the Nokia brand, it would still be a bit of a surprise to see such a device at this stage. Instead we are likely to see Microsoft flesh out its mid-range a bit more after releasing a bevy of lower end devices in recent months.
A possible candidate for a mide-range smartphone that might be first shown at the upcoming MWC is the Microsoft Lumia 1330 - what the Lumia 1320's successor is expected to be called. This large smartphone is expected to offer a 5.7-inch 720p display, Qualcomm Snapdragon 400 SoC, 1GB RAM and 32GB of storage built-in. Its imaging ability will be pretty good with a 13MP PureView main camera paired with a 5MP front-facing camera.
Windows 10 on smartphones
While we are on the topic of Lumias there have been some updates about how the new OS will work on lower end models. We previously heard that all Lumias that run Windows Phone 8.1 right now would be able to upgrade to Windows 10. However it seems the full truth is a little bit more complicated than that.
It is no big secret that the bulk of Lumias sold are indeed the lower end models. With this in mind Microsoft is pushing hard to get Windows 10 to work within the 512MB RAM most of these phones have installed. As The Verge reports the best selling Lumia 520, Lumia 630, Lumia 625, and Lumia 530 all have 512MB of RAM.
Joe Belfiore Tweeted that Windows 10 features coming to the above mentioned smartphones "may vary".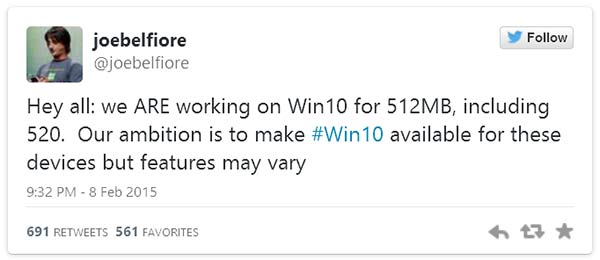 Belfiore also let his Twitter followers know that "we're on track for Insider build coming 'in Feb' as Terry said at our 1/21 event. We need to complete internal testing 1st, hang in!" This initial test release will be available to a "subset of phones". Paul Thurrott reckons that the Preview release may come with a rollback feature to make it safer for users to test.
Are you looking forward to upgrading your Lumia to Windows 10?