It seems like the BlackBerry Z10 is off to a good start. Early analyst reports of UK sales are extremely robust with tales of large queues outside retailers, demand on a par to that of the iPhone 5 launch and even shortages and sell outs at some stores. Also in Canada, a country of 34 million people, pre-orders are approaching 100,000 units.
An analyst research report seen by C-Net told investors, it's intended audience, that "U.K. carriers O2, Vodafone, Orange, and EE are seeing robust demand" and retailer Carphone Warehouse "is seeing widespread sellouts". The analyst, Peter Misek of Jefferies & Company, Inc., added that he expects sales of "at least several hundred thousand units". Misek applied the UK success of the BlackBerry Z10 to the US population, where the Z10 is yet to be released, and added the magic word "iPhone" to the equation; "To put that in perspective, the iPhone had first weekend sales of 5M+ in the U.S. The U.S. is five times larger so continued strong sales could bode very well for BlackBerry."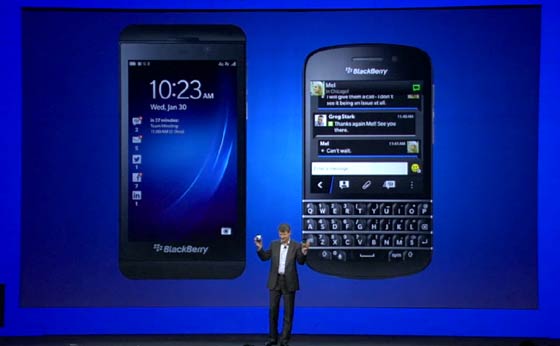 The news is very good for BlackBerry; the BB10 system and handsets are seen by some commentators as the company's last roll of the dice. There are still a few weeks until the new BB10 smartphones are released in the US, which is a critical market. The company must be hoping it can ride a wave of enthusiasm spurred by reports of sell outs and shortages in smartphone-mad UK.
The flicky "gesture typing" keyboard
When I saw the new BlackBerry 10 OS and smartphones I was impressed by the OS as a whole, the peeking and flow around the hub and so on. However the new on-screen "gesture typing" keyboard of the Z10 looked particularly appealing and interesting to me, as a fan of innovation in input devices. So I was very interested to read a review and watch a video from PCPro focussing upon the new BB10 on-screen keyboard. The report entitled BlackBerry Z10 keyboard: not all it's cracked up to be, says that while the ideas behind the new keyboard sound great, the implementation isn't so hot.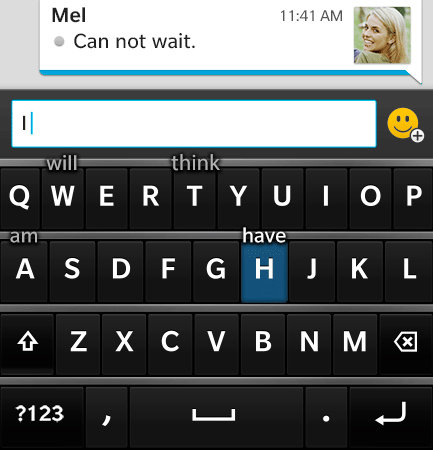 Basically the suggestions appearing between the rows of keys are "far too small and subtle" according to the reviewer, and secondly it takes a long time to scan through all the suggestions popping up upon the keyboard to be useful. There is an option to show the suggestions above the keyboard like on other smartphones but then it loses its flicky gesture advantage as demonstrated on BB10 launch day...