Cold turkey
Pretty much the sole reason people choose BlackBerry phones over others is their email support and the BBM instant messaging service. According to widespread reports both services have been lost to many EMEA users thanks to an issue with parent company RIM.
According to the Telegraph, the problem originates at a RIM data centre in Slough, which provides these data services for much of the EMEA region. There's no evidence, or reason, why this issue should affect phone calls.
Here's the official RIM statement on the matter: "We are working to resolve an issue currently impacting some BlackBerry subscribers in Europe Middle East and Africa. We're investigating, and we apologise to our customers for any inconvenience caused whilst this is resolved."
BlackBerry's support Twitter feed sent out the message below at around 3pm, but the issue has apparently been around since 11am. A search for 'BlackBerry' on Twitter reveals such a volume of related tweets that it's impossible to read any of them. The HEXUS BlackBerrys are also suffering from this issue.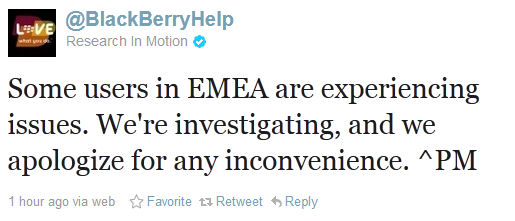 Looks like RIM has got its hands full with this - we'll keep you updated as and when we get them.
UPDATE - 09:30 11 October 2011 - Here's the latest statement from RIM: "Yesterday, some BlackBerry subscribers in the EMEA region experienced delays with BlackBerry services. The issue was resolved and services are operating normally. We apologize to those customers who were impacted for any inconvenience."