Screen show time
Research in Motion (RIM) has unveiled the design of the BlackBerry 6 home screen, giving users a glimpse of the new features they can expect from the eagerly anticipated operating system.
Joey Benedek, director of UX Research at RIM, described BlackBerry 6 as "fresh but familiar". While it retains the character of former BlackBerrys, some may say the screen now appears more iPhone-esque including a selection of app icons.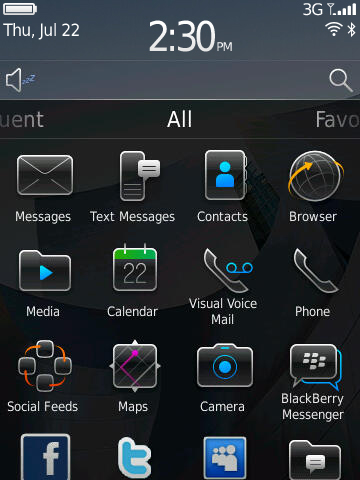 Benedek said one of the key features of the new design is the movement between and within applications which is more fluid, allowing users to multitask.
There are five separate views users can switch between using the navigation bar, depending on the type of information they are looking for, including 'frequent' for most-used apps and 'favourites' where users can park chosen apps as well as create shortcuts for useful contacts or web pages. The other views are 'media,' 'downloads' and 'all,' a vertical list similar to the BlackBerry's current home screen.
The new operating system has also revamped the way users search on their phones by introducing two 'quick access areas' that are built into the home screen.
One allows easy-access to connections, alarm and options screens which can be accessed by tapping the top of the home page. The other enables users to view their most recent messages, amassed from email, text, BlackBerry messenger, recent calls, appointments plus Twitter and Facebook notifications by tapping the 'notification bar' also located at the top of the home screen.
According to Benedek, BlackBerry 6's 'universal search application' makes it easier for people find content on their phone whether they are looking for an email or song track. The same search query can also be used to probe the web as users can choose YouTube, Google or BlackBerry App World to extend their search further.
Like the iPhone 4, the new Blackberry has put an emphasis on multitasking and also allows swiping between application panes, as shown in the promotional video.
The software launch is 'on track' for release this summer and is designed to attract new users to the BlackBerry platform as well as satisfy current owners.
As smartphone buyers are increasingly choosing Android and Apple phones, commentators have emphasised the importance of the new software to RIM, which has been losing some of its smartphone market share to competitors.