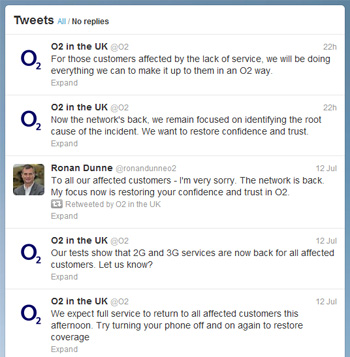 It's been a week to forget for O2 after a massive outage left millions of users with no signal for 24 hours.
The UK's second-largest network is now in the process of apologising profusely, with company CEO Ronan Dunne putting on a brave face while stating, quite simply, "I'm very sorry."
This period of shame, however, is likely to be followed by a lengthy spell of scrutiny and sorrow as customers demand both an explanation and compensation. Communications regulator Ofcom is understood to be investigating the matter, and high-profile websites such as moneysavingexpert are already advising customers on how to claim compensation or use the outage as a means to cancel a contract.
We suspect we haven't heard the last of this particular saga, but what has the outage really meant for O2 customers? Has the downtime affected you or your business? Is this reason enough to move to another network? Or has O2's handling of the situation assuaged your fears of any future repeats? Let us know in the comments below.