A whirlwind tour of Europe
Away from corridor combat, stealth objectives provide some respite from the action, but turn out to be fairly uninspiring passages of play where you actually do nothing more than follow the commands of a team-mate. Similarly, objectives where you remotely-control air-to-ground missiles to help escort troops through a battlefield, or open up a computer-packed suitcase in order to take down a helicopter with a guided rocket, prove to be quite forgettable moments that don't really add anything to the experience.

Nonetheless, despite those moments where the pace slows down and familiarity and linearity seeps in, MW3 still ends up being an engrossing campaign packed with enjoyable battles that gather in intensity on the way to a satisfying conclusion to the current story arc and a thrilling finale.
Predictable story

The storyline in MW3 begins where Modern Warfare 2 left off, with Captain John Price and Nikolai evacuating a dying John "Soap" MacTavish from Afghanistan, and Vladimir Makarov's Russian forces pressing forward with their goal for world domination. Though it's the action in MW3 that takes centre stage, there's a decent-enough storyline that provides a fitting backdrop to the terrifying events of World War III.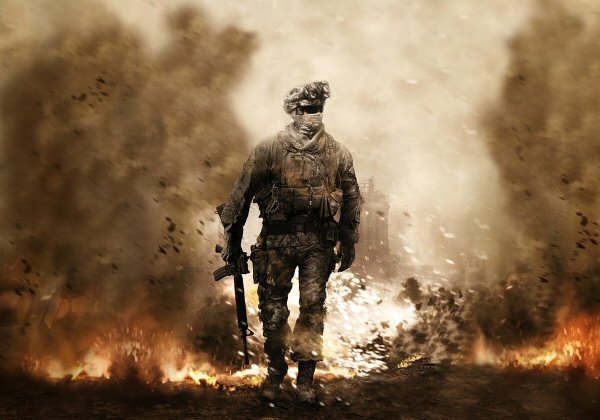 The contrived story serves as a good excuse to put you in the role of a variety of characters in the game, including Soap, Yuri, and Frost. There are even a few surprises along the way, including one that at the airport where the notorious massacre of hundreds of civilians was played out in the last game.

This incredibly far-fetched plot also gives you an excuse to travel around the world to immediately recognisable places. Though the environments and character models don't quite have the same realistic look as they do in Battlefield 3, level design is impeccable, and the locations where fighting ensues are a huge part of the game's appeal.
Whistle-stop world tour

Memorable passages of play include a fight by the Eiffel Tower in Paris that sees the huge monument come crashing to the ground, and a gravity-defying battle on board an airplane. There's also an enjoyable trip to London that proves to be the game's "shocking" moment. Each location generally provides new reasons to try out the different weapons - from sniper rifles to pin-point enemies hiding out on roof-tops, or knives to stealth-kill an enemy in the depths of the jungle.

Indeed, there is a diverse range of battlefields along the way, including visits to Hamburg, Prague and Syria, which present new challenges. And every step of the way, the game totally immerses players in the action with a combination of great audio and huge set-pieces. Overall, Modern Warfare 3 does what it sets out to do by making you a part of a significant battle, cleverly using techniques such as slow-mo and cinematic motion blur to provide sense-enveloping action.