Defining feature - ability to independently control game and chat volume
In the box you get a set-up guide, two AAA batteries, a pair of phono connectors, 3.5mm cable and the USB wireless transmitter. There's a small amount of fiddling around before you set-up the x95, but you should still be up and running within a matter of a few minutes. The USB wireless adapter slips into the Xbox 360 via USB; and from that small box the RCA cables can be "piggybacked" into your Xbox 360 component cables that run into the back of your T.V. The good thing about "piggybacking" the RCA cables is that you can also use a second x95 headset if you wish to do so. It also means, of course, that if you're connecting from your Xbox 360 to your TV via HDMI, you'll have to dig out the component cable to use instead, or buy a cable that uses two male 3.5mm standard headphone jacks. That's not quite the end of the set-up either. After synching the headset with the wireless adapter- which takes only a few momnets - you then have a small cable that you run from the headset into your Xbox 360 controller, which ensures the mic works. So, there's actually quite a lot of wires considering this is a wireless solution. However, you can't really blame Plantronics for that as Microsoft and Xbox designed their voice chat to use a proprietary RF communication system which requires a wired connection.

The highlight of the x95 is the ability to adjust the volume of game and voice chat independently and intuitively. The placing of the controls on the outside of the ear cups makes it very simple to quickly adjust volumes or mute, and you don't lose too many precious seconds in game while doing so. For team-based games, being able to turn game sound down on the fly so you can hear team-mates is invaluable – it's no wonder that more and more peripheral manufacturers are including this feature on their headsets. Though the x95 doesn't automatically adjust the sound when other players speak - like some high-end headsets – it does a particularly good job when you do use the controls, giving you great voice clarity when the game sound is turned down.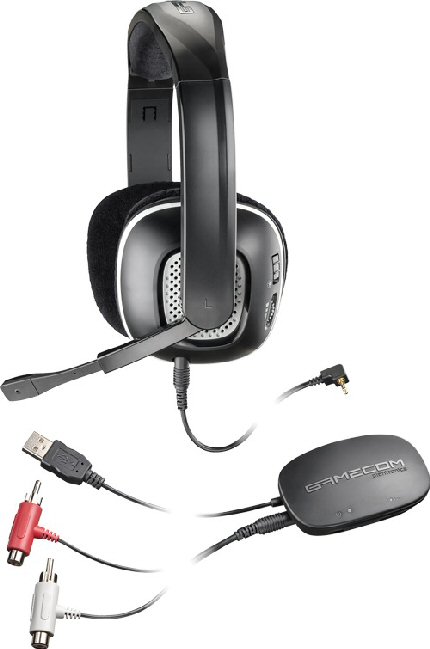 Click for larger image



The 40mm stereo speakers obviously lack some of the impact that a set of surround sound cans would bring, but it does give out some warm tones and boasts crystal clear voice communication. Though a little tinny at times, and lacking in bass, the x95 performs reasonably well whether you're watching a movie, listening to music or playing a game. I've also seen no signs of feedback or interference from other wireless devices in my room, such as my router and baby monitor. Stray out of the room though and crackling often sets in, probably due to interference from the many other electrical devices in the building. Nonetheless, when confined to the room and glaring at the T.V. monitor it does lock in sound particularly well immersing you in the game, while ensuring that you don't get distracted from sounds outside of the headset.

Continued overleaf...