Capture direct-feed from your Xbox 360 or PS3
Currently, there are a number of ways you can capture video footage from your Xbox 360 and PS3. However, while some solutions are as cheap as chips, like the EasyCap DC60+, for instance - which does a decent job at outputting low quality footage - others are more expensive. The internal PC capture card, the BlackMagic Intensity Pro, for example, will set you back just under £150 and requires some technical know-how to set-up, but it is feature-extensive and outputs in HD resolution. Roxio (best known for its PC application suite for creating digital media) on the other hand has settled for somewhere in the middle of these two products, entering the market to bridge the gap between cheap and expensive game capture devices by releasing the Roxio Game Capture, which has been pimped as an affordable game capture solution aimed at hobbyists.

Having regularly used an external capture device called the Hauppage HD PVR to capture hi-definition footage, I was intrigued to test out Roxio's new capture device to see how it measures up. The official marketing blurb and box art reveals that the Roxio Game Capture "captures real-time gameplay from your Xbox 360 or PS3 to your PC while still playing in full HD on your television." Before you consider buying Roxio Game Capture, read that sentence very carefully. Though you need to capture footage on a HD device, and can still play the game in HD, it only outputs in standard definition, 480p.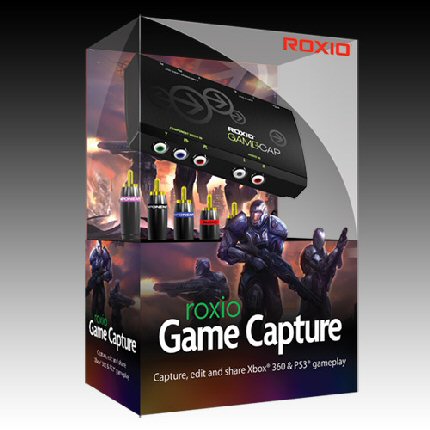 That makes this little black box far from perfect for the professional who may have a need to capture really high quality footage. However, for those who just want to get their videos on the likes of YouTube and Facebook, or who plan to use the videos for personal use and for sharing with others, it shouldn't prove to be much of an issue. As you can see from the video below, 480p should be more than adequate for most; and if you're not entirely satisfied you can always edit the video and upscale to 720p within the provided software. The obsession with gamers capturing video footage has reached fever pitch on YouTube within recent years, so the arrival of Roxio Game Capture has come perhaps a little late in the life cycle of the Xbox 360 and PS3. However, it does aim to deliver an immediately accessible and high quality solution for game capture that is a lot cheaper than many HD capture devices. As such, it should still have quite a large audience - which will largely consist of those thinking of upgrading from the very cheap capture devices to something more reliable, or those thinking of dabbling with game capture but have yet to give it a try.

Click on the captured footage below from Need For Speed Hot Pursuit and you'll see how Roxio Game Capture outputs in 480p. However, this video has also been upscaled, so you can also choose to watch it in 720p. This can be done within the provided software.





Continued overleaf...