Fancy a face full of milk?


Based on the computer animated film of the same name from Paramount Pictures and Nickelodeon Movies, Barnyard is the latest children's adventure from THQ.

Barnyard is a surreal adventure where animals rule the roost, have parties, cook their own recipes and take part in numerous competitions, with the ultimate goal being to be crowned Barnyard Champion. If you're a fan of the movie you'll be excited to see all of your favourite characters, including Otis the cow, Freddy the ferret and Maddy the female chick as you interact with them to pick up missions or play mini-games. It's a simple gameplay premise with smooth controls and plenty of action. Children will have great fun playing the likes of gopher golf or sharp squirter and despite being adults; we actually had a great deal of fun taking part in the knee-slapping antics of these crazy characters.

Barnyard begins by choosing from one of four cows as your main character. The choice between a Brahman, American, Angus or Beef master cow is purely based on which one you like the look of, so we chose the attractive Beef master and set off to the farm to take part in the farmyard shenanigans.





As you move around the bright and vibrant barnyard you'll receive text messages that point you in the right direction to each mission and then you'll have to meet with the likes of the imaginatively named Pig to be issued with your objective. Sprinkled around the barnyard you'll find colourful characters that you can interact with and who will give you information on quests, rewards for completing missions, ask you to carry out favours, or invite you to play a game.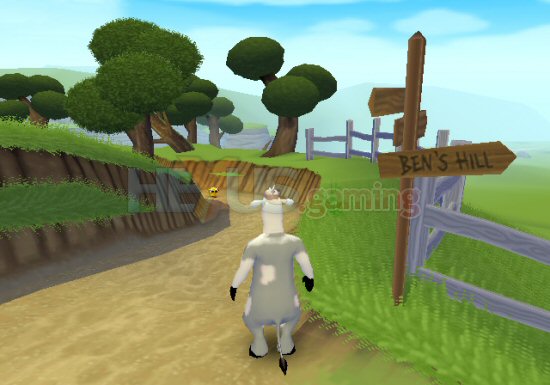 There are approximately a dozen different locations to visit where you'll need to hop on your bicycle and take a relaxing journey down the winding country roads, where butterflies flutter past and lakes glisten in the morning sun, but before you can access these locations you'll need to complete missions in order to receive the keys to the locked gates that prevent you from entering.

One of the first missions, and our personal favourite, is sharp squirter which involves spraying milk over the other animals as you compete against a timer to soak five of the farm animals or hit targets scattered around the yard. Shooting milk from the udders of a cow will no doubt make kid's young and old giggle at the rudeness of the action; we too felt a bit naughty as we shot our cream into the face of Otis the cow.