Meet EVGA's Gaming Mouse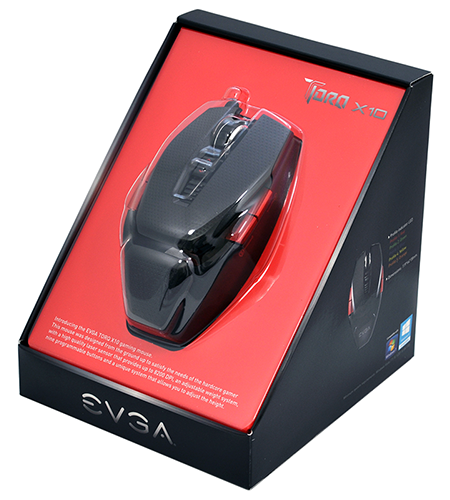 EVGA has been servicing the requirements of enthusiast gamers since 1999. Having started out as a purveyor of Nvidia graphics cards and motherboards based on Intel chipsets, the company has in recent years expanded its portfolio to include power supplies, PC chassis and, now, gaming peripherals.
This latest venture begins with the Torq X10, a £50 gaming mouse we're told "was designed from the ground up to satisfy the needs of the hardcore gamer." And that isn't just marketing - EVGA has invested heavily in the design and development of its first gaming peripheral, so let's find out whether or not it's been worth the time and effort.
Design
Two versions of the Torq X10 are being brought to retail; a standard model priced at £50; as well as a premium 'Carbon' model priced at £70.
The latter is effectively lined with a Carbon Fibre layer that, while useful for bragging rights, doesn't in our opinion justify the 40 per cent premium. For that reason, we've got the standard mouse in for review.
And first impressions are good. EVGA has opted for a long, narrow profile that has elicited a mixed response - users with small hands have described the Torq X10 as too big, while those with larger paws have immediately felt at home. I fall into the latter category, and taking my slim fingers into account, EVGA's mouse almost feels tailor-made - it's a very agreeable fit.
Overall dimensions are 114.3mm (L) x 57.2mm (W) x 31.8 - 38.1mm (H), and yes, that means built-in height adjustment is available as standard.
Aiming for widespread appeal from the get-go, EVGA has opted for an ambidextrous layout. This gives the mouse a stylish, symmetrical appearance, but as a righty, I do prefer ergonomic mice - a one-size-fits-all solution is rarely as well sculpted as a dedicated left- or right-handed design.
EVGA's colour scheme is simply black with red highlights, and though it works well enough, there's a part of us that wishes it came entirely in black. Still, it's a good-looking device, with sleek lines and nothing particularly outlandish.
A textured finish across the top feels good in the hand, and the elongated main buttons make the mouse suitable for either claw- or palm-grip use. As for build quality, it's generally good news throughout. The bottom section - which makes up the bulk of the mouse - is entirely metal and feels suitably rigid, while the plastic palm rest and mouse buttons on top are softer and more forgiving. This prevents the mouse from feeling brick-like in your hand.
For the most part, the Torq X10 feels as though it's capable of justifying some of the £50 asking price, but it isn't quite perfect and there are a couple of things that could be done differently. Firstly, we aren't keen on the off-centre positioning of the 1.8m, braided USB cable. True, it's not doing any harm where it is, but it does spoil the symmetry of the device.
Secondly, I'm a right-handed user who has become accustomed to mice that have a resting area for my thumb and, preferably, my ring finger. The Torq X10's clean ambidextrous layout has neither, so no matter how well it performs, it's unlikely to convince me to drop my current gaming mouse - a Mionix Naos 7000.
The look and feel of a mouse is highly subjective - some users will instantly take to the Torq X10 and others won't - but whichever side of the fence you fall on, you can be rest assured that the underlying hardware has plenty to offer.