matty-hodgson rates Codemaster's racer very highly
The following reviews are from members of our community here at HEXUS.gaming and are therefore the opinions of the individual writers, not necessarily the views of the HEXUS team.

If you'd like to submit a user review, unedited, giving you the chance to put the world to rights, please read overleaf.

Version reviewed - PC
Reviewer - matty-hodgson

Colin McRae: DiRT 2 is a racing game that was released on the 4th of December 2009; it's the first Colin McRae game since Colin's death in 2007. This game has Ken Block replace Colin McRae as the top driver and also includes Tanner Foust, Dave Mirra and Travis Pastrana. You race in many diverse and challenging locations including; LA, Utah, Baja, Morocco, London, Croatia, Malaysia, China and Japan. Each new location is different from the last, like driving through the jungle on slippery mud in Malaysia or drifting through an arena stadium with stupidly high jumps in LA. The new instalment in the Colin McRae series also includes many new and exciting race modes: Trailblazer, Land Rush, Raid, Rally and Rallycross. You also get to drive a wide range of new vehicles, along with the old ones too. These new cars are: Trailblazer, Rally-Raid, Trophy Trucks and Buggies.

DiRT 2 has five different racing disciplines; all of these modes are very fun and can be quite addictive. There are also some added extras within these disciplines to add a little extra to the game. Another good aspect of DiRT2 is the realistic vehicle behaviour that the physics and driving engine within the game allow. I found that this allowed for a more life-like, and certainly more enjoyable, game play as it enables you to take full control of the car. The graphics and scenery in this game are amazing; the dust from other cars remain in the air for a good while, the trees move in the wind and there are also "Wacky-Waving-Inflatable-Arm-Flailing-Tube-Men" dotted about in the crowd. The cars also look the part, they appear exactly as they should and also come apart realistically after a few knocks.

The rally mode is exactly what you'd expect. You race from point-to-point with other cars spaced at 10 second intervals and whoever sets the fastest time through the stage wins.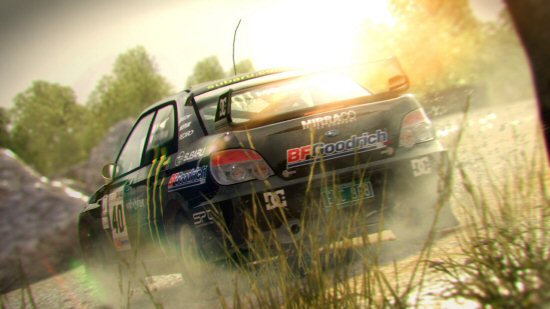 Click for larger image



Rallycross is totally different to rallying. It's set on a closed circuit with 7 other cars. You race in a highly modified rally car and do 3 laps; whoever crosses the line first is the winner.

The Trailblazer discipline entails just blasting through a point-to-point course at very high speeds, usually these tracks are very level and straight with the odd turn, so it's all about the braking point and carrying speed into the corners and keeping it on the exit.

The Raid races are very similar to the rally mode, but you race in heavy duty offroad vehicles such as buggies and trophy trucks.

Landrush events are akin to raid races, but they take place on a circuit with 7 other drivers.

Overall, this is a very good game that I enjoyed thoroughly, the graphics are incredibly good and the tracks are very well designed, a bit more effort could've went into including more tracks, but on the whole I'm very impressed. I would give this game a 9/10 because I felt like I wanted more tracks to play with.

Score: 9/10

PeteSmith has a very different opinion...turn overleaf.