Introduction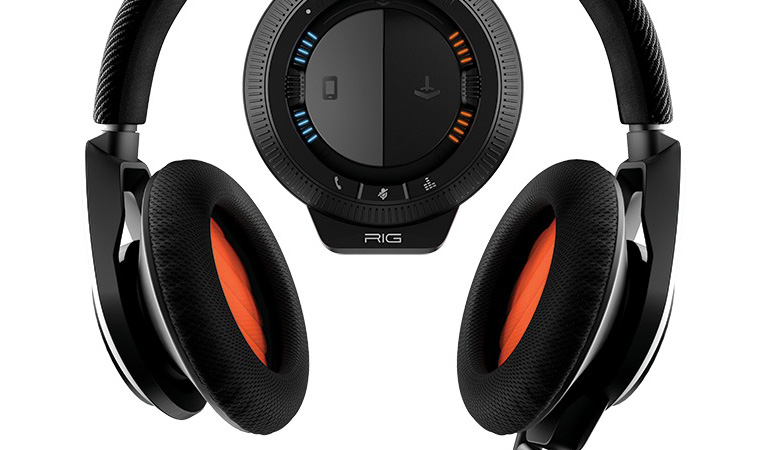 Plantronics has been developing high-end headsets for some time, and having established a wide range of products for both the mobile and gaming crowds, the firm is now looking to cover both bases with its latest solution, dubbed RIG.
Launching in various territories in time for the Christmas season, RIG arrives with a £110 price tag and claims to be "the only gaming headset that lets you dial in your life without pausing your game."
Play more, pause less, is the slogan and the premise is simple enough: RIG looks and feels like your everyday gaming headset, but in addition to connecting to your PC or games console, it can simultaneously hook-up up to your smartphone and mix game audio with phone audio.
The idea is sound (excuse the pun), as it allows users to answer calls without interrupting their game. Sure, it's a bit of a luxury - taking off a headset to answer your phone is hardly a chore - but RIG does introduce a couple of other interesting usage scenarios. We've been enjoying streaming music from our mobile phone whilst playing Battlefield 4, and if the personalities on Xbox Live are too vociferous for your liking, how about plugging in a tablet and Skyping with your mates instead?
There are real-world benefits of being able to mix your smartphone/tablet audio into your gaming headset, but it all needs to be convenient and hassle-free if it's to warrant consideration. So how does Plantronics achieve the desired effect? Well, the RIG formula has two key ingredients: the headset, and the mixer.
The Headset
Those who are familiar with Plantronics' gaming headsets will know that the company can do typical gamer-orientated designs - i.e. big and bulky - but the RIG needs to serve multiple usage scenarios and has therefore been toned down considerably.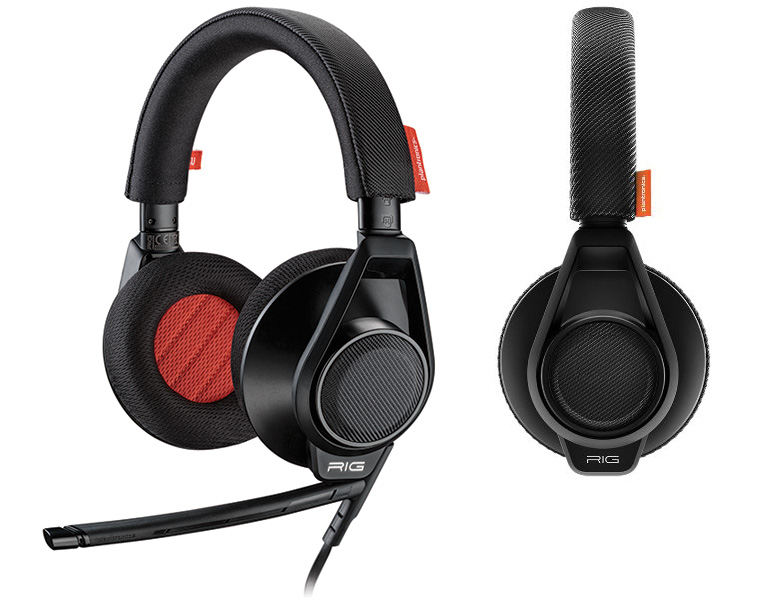 The wired headset, available in a choice of black or white, is subtle for a gaming solution and we're quite fond of the overall aesthetic. You'd feel just as comfortable wearing it during the morning commute as you would at your next LAN party.
Orange fabric covers the drivers and colour-matched tabs adorn the headband, but other than that, there's little to disturb the sleek overall design. RIG's circular earcups are foam-padded with the ability to rotate 90 degrees for easy storage, and the adjustable headband feels sturdy and well put together. The padding that lines the headband is admittedly on the thin side, but the lightweight design is such that RIG rests easily on the head and feels comfortable to wear.
A single cable connector is provided on the left earcup, and in knowing that multiple usage scenarios exist, Plantronics bundles a choice of two interchangeable microphones. The first, for gamers, sports a flexible rubberised boom mic, while the second has an inline mic with mute and call control, making it ideal for when you're out and about.
Good-looking design and flexible functionality make RIG a satisfying headset to wear, but for high-end gamers the speaker specification may not match up to the price tag. Plantronics makes use of stereo 40mm drivers that pack a decent amount of punch - more on that later - but serious gamers may well prefer 50mm drivers with multi-channel surround. From an in-game audio perspective, there are better-specified headsets on the market available for similar money, but, crucially, there are none designed with mobile connectivity in mind.